LEADERS is a competition aiming to reach out to support the best women innovators (i.e. professionals, researchers, entrepreneurs) playing a leading role in developing solutions / initiatives addressing manufacturing-related challenges with strong financial, environmental, or societal impact.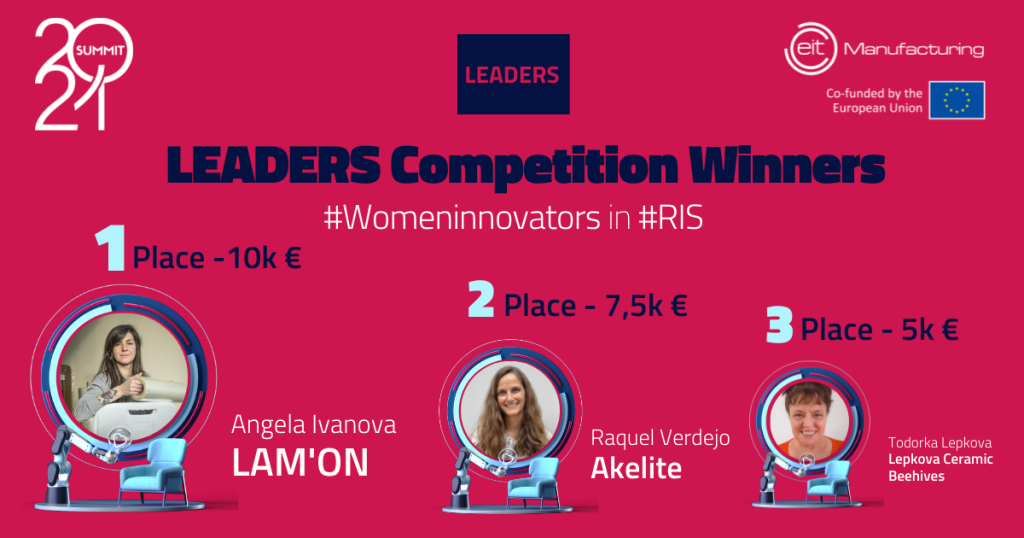 Within EIT Manufacturing SUMMIT 2021 event, 6 finalists from this year's LEADERS competition pitched their outstanding ideas and created a spin-off that will bring sustainability to the future of manufacturing from ceramic beehives, High-quality mushroom production to biodegradable laminating film. Three were awarded with financial prizes as well as international publicity through our network:
 1st place: Angela Ivanova, LAM'ON project: Biodegradable laminating film and packaging foil.
2nd place: Raquel Verdejo, Akelite project: Endeavour to create a spin-off that will bring sustainability to a high-performance material.
3rd place: Todorka Lepkova, Ceramic Beehives project: Dedicated to development and implementation of innovations mainly in the fields of ceramics.
Project lead contact:
RIS Relationship Manager
Megi Witerna-Plaku