EIT Jumpstarter is back for 2023
One of Europe's best programmes for early-stage innovators is back in 2023 with two new categories: Rebuild Ukraine and Digital! Apply now and join EIT Jumpstarter and access the largest innovation network of EIT Communities. You will compete for the whopping first prize of up to €10,000 in nine categories.
EIT Jumpstarter builds the new wave of European changemakers
Economic growth, stability, and social impact can be achieved through deep tech. To bring new ideas to the market, Europe needs to nurture its talent pool. The whole talent pool. There are thousands of researchers, scientists, and early entrepreneurs working on cutting-edge ideas in over 25 countries in Central, Eastern, and Southern Europe. Many of them build innovations but lack business skills, networks, or market validation. With the EIT Jumpstarter, you get this. We want to initiate early adoption of technology trends, override hype curves, and deliver long-term value for the European deep tech ecosystem.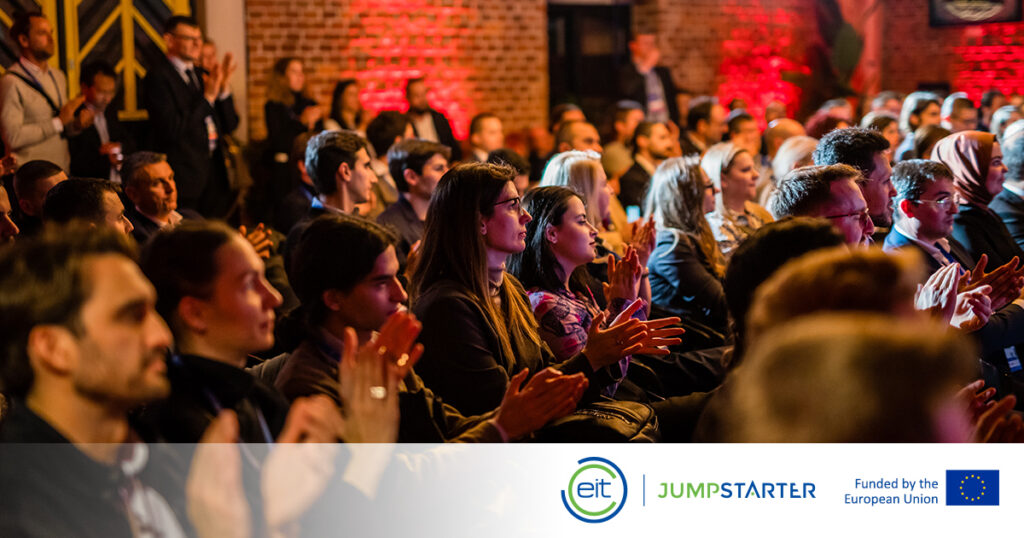 Want to join the new wave of Europe's changemakers and show your idea to the world?
We helped already 750 teams across different industries and regions.
Applications are open by 16 April 2023.
For terms & conditions and the application, click now!
The EIT Jumpstarter programme is a good starting point and learning experience for young entrepreneurs. It helps teams consider all possible aspects of their business and, as a result, develop a concise business plan around their original idea.

A 2022 winner, Blaž Zoubek, Co-founder, Spektral Seismic Solutions
Only last year 188 teams competed alongside NeuroTech, and a total of 331 individuals were trained, mentored and supported in expanding impactful ideas into powerful business models. And they took home the combined prize pool of €154,000.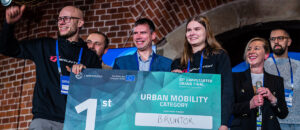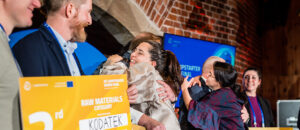 Is it for me?
One of the winners last year was Thertact, who competed in the Health division. André Perrotta recommends the EIT Jumpstarter because the programme helped them to "understood how to put a price on the product and the steps to make it investable so that they could develop it more."

André Perrotta, from Thertact, a winner in last year's competition
The EIT Jumpstarter is open to students, PhDs, researchers, and entrepreneurs from over 20 countries in Central, Eastern, and Southern Europe, including Ukraine, Turkiye, and the Western Balkans.
It's been shaped by top experts from seven innovation communities. Its curriculum responds to the main challenges researchers and scientists face when starting their own companies. Also, it aligns with top European trends, like deep tech.
With EIT Jumpstarter, you'll get direct insights into industry dynamics and trends, and upgrade your Business Readiness Level. A truly unique cross-industry environment makes it easy to get started.
Expanding to Ukraine, Western Balkans and exploring Digital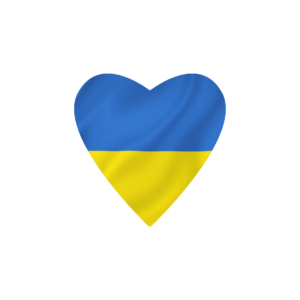 Rebuild Ukraine: this new cohort is for all Ukrainians who want to rebuild and revitalise the country through innovation. We're looking for scientists, engineers, entrepreneurs, PhD and master's students and innovators across all thematic cohorts – namely Digital, Food, Health, Innoenergy, Manufacturing, New European Bauhaus, RawMaterials and Urban Mobility. Ukrainian citizens and teams can only apply for this category.
Digital: by providing technology, talent, and support to businesses and entrepreneurs, the Digital category builds the next generation of digital ventures, products, and services which respond to the key societal challenges: digital tech, digital cities, digital industry, digital well-being and digital finance.
New European Bauhaus: the innovative solutions that teams develop in this category contribute to the creation of beautiful, sustainable and inclusive places, products and ways of living. The ideas connect the objectives of the European Green Deal to the European citizens and highlight the three dimensions of the New European Bauhaus: sustainability, aesthetics and inclusion.
Western Balkans: It is more than a special prize, it is a shift in mindset and approach. With this new dimension across the categories of EIT Jumpstarter, we are strengthening the cooperation between the countries of the Western Balkans and the European Union.
What's in it for me?
Through the programme, you will receive:
Training from experienced innovators​
Support the ideation process through business upskilling​
Cross-sectoral validation to reach product/solution market fit​
Grant to cover your travel and accommodation, or develop your project and create your start-up​
Access to the EIT Alumni and investors' network​
Entrepreneurial toolbox to create and innovate your business model​
A chance to win the €10,000 first prize
Get in touch with our team!
Cross-KIC RIS Manager
Patricia Karrer
RIS Operations Manager
Verónica Rodríguez