First regional BoostUp! Final: Seven promising European ventures awarded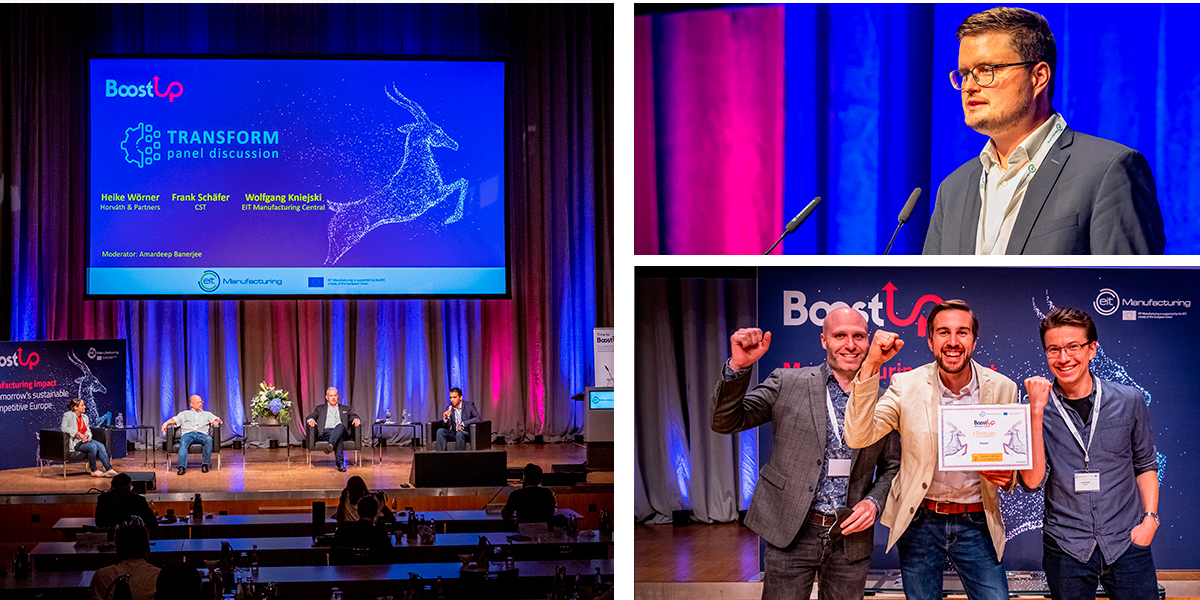 https://youtu.be/cko8pZXLEhs
The first BoostUp! regional final hosted by EIT Manufacturing Co-Location Center Central, Darmstadt, Germany, took place on September 23. The hybrid event, organised amid pandemic restrictions, received very good feedback from the about 120 participants, and strongly contributed to further reinforcing the connections to the local ecosystem.
In addition to the awards ceremony, the event program included an introduction from the Lord Mayor of Darmstadt Jochen PARTSCH, and two keynote speakers. Christian BACHER, Bosch Startup Harbor, spoke under the headline "Corporate Incubation and Acceleration Programs, driving Innovation Ecosystems", whereas Alain LELOUX, General Partner, Cottonwood Technology Fund, gave some advice on how to turn early stage investment ideas into Gazelles.
"Our BoostUp! event was a fantastic opportunity to strengthen our ecosystem in Germany, the Benelux, Ireland and Poland. Together with our members, our activity partners as well as our four new network partners – DigiHub Südbaden, Provadis School of International Management and Technology, Smart Systems Hub and HUB31 – I am looking forward to further support innovative manufacturing in Europe",  said Christian BÖLLING, Director, Co-Location Center Central.
"We saw companies with highly innovative solutions, great teams with entrepreneurial drive and business models that allow scaling up all over Europe. We will be proud to assist these companies with our Business Creation support services", said Wolfgang KNIEJSKI, Senior Business Creation Manager, Co-Location Center Central.
Seven European ventures you will hear more about
At the Co-Location Center Central, all in all seven BoostUp! competition participants were awarded. Read more about them here.
CREATE Category for entrepreneurs for a new solution to develop for commercial use
1st place: Digital Production Technology
2nd place: Kvassir
ACCELERATE Category for start-ups ready to expand
TRANSFORM Category for SMEs ready to transform their business: