The EIT Knowledge Triangle
The EIT was created with the recognition that a competitive, knowledge-based economy capable of sustainable growth requires integration of the three sides of the so-called Knowledge Triangle: education, research and innovation achieved by industry.
In practice Knowledge Triangle integration involves activities in education, innovation and business creation. By bringing the three sides of the Knowledge Triangle closer together, EIT enables the innovation that will help Europe flourish economically while growing sustainably.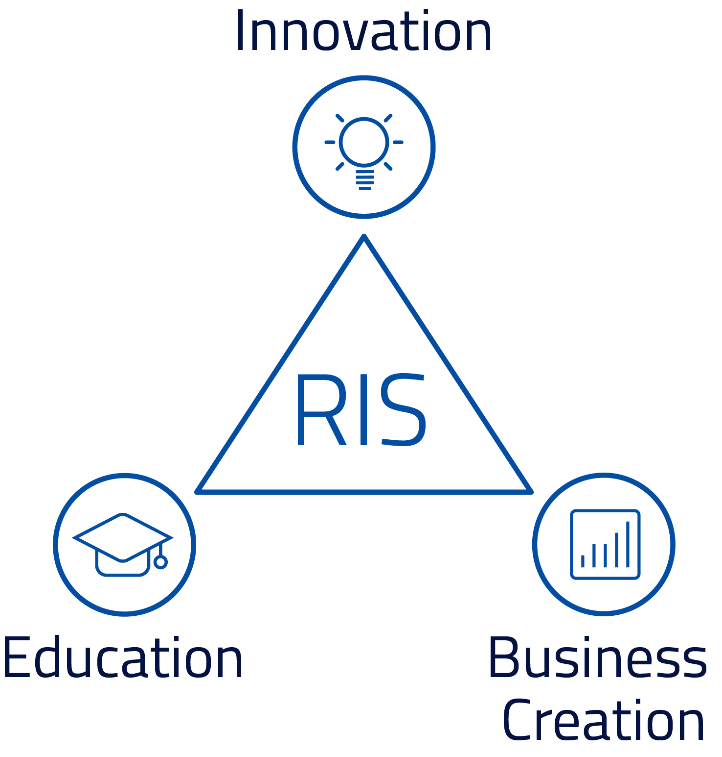 As an EIT Knowledge and Innovation Community (KIC), EIT Manufacturing unites educators, researchers and entrepreneurs in industry in collaborations that further innovation in manufacturing. Our focus on the three sides of the Knowledge Triangle, along with the Regional Innovation Scheme, is reflected in EIT Manufacturing's functional areas, which we call "pillars".
In practice: Putting the wheels in motion
The world is currently experiencing the fourth industrial revolution, which brings new challenges and opportunities. EIT Manufacturing's aim is not only to adapt to this global revolution, but to lead it. To do this, EIT Manufacturing is working on nine powerful programmes covering the entire Knowledge Triangle — Education, Innovation and Business Creation — for Added-Value Manufacturing:
Education: "Empower", "Connect" and "Engage" talents and the workforce
Innovation: "Launch", "Develop" and "Grow" innovations
Business Creation: "Create", "Accelerate" and "Transform" businesses
Thanks to these programmes, EIT Manufacturing is contributing to the dual green and digital transformation by:
Adapting to exponential technological progress. Success is no longer determined by a narrow technology focus, but rather by a clear vision and the capacity to adapt.
Making manufacturing a powerhouse for social impact.
Overcoming value network fragmentation in Europe.
Transforming knowledge into value more efficiently.