Meet Konstantinos Georgoulias, Pillar Director
Our vision is to contribute to having the EIT RIS area recognised as an important source of innovative products and services for European manufacturing, and to realise a pipeline for these innovations to reach the Pan-European and global market.

Konstantinos Georgoulias, Director, European Affairs and RIS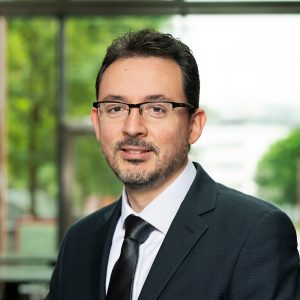 How can EIT Manufacturing's RIS projects make a difference in the green and digital transformation? 
Several large European manufacturers, often global market leaders, collaborate with suppliers, subcontractors and solution providers that are based in EIT RIS countries and are important links in the manufacturing value chain. Therefore, RIS projects aiming, for example, at promoting innovations related to the  circular economy and artificial intelligence, as well as at equipping the manufacturing workforce in EIT RIS countries with the relevant knowledge and competencies, can have a huge effect on the green and digital transformation of EU's economy.
What type of projects are you looking for in particular?
The green and digital transformation can prove to be a great opportunity for the EIT RIS area and EIT Manufacturing wants to help this happen! We are therefore looking for projects focusing on this transition, drawing on the strength of the talents and businesses in EIT RIS countries and bringing together the competencies of the most innovative organisations in the EIT RIS area. We aspire to have "champions of innovation" coming out of these projects. These organisations will in turn become role models for even more innovators from EIT RIS, eventually enhancing the total innovation capacity of EIT RIS countries.
Let´s connect
Contact our headquarters or our co-location centres
EIT Manufacturing is headquartered in Paris-Saclay and has six Co-Location Centres (CLCs) across Europe.
EIT Manufacturing's Co-Location Centres (CLCs) are strategically situated to link regions that have high levels of manufacturing activity and advanced technology.