BoostUp! 2020 – pan-European business competition
[EIT Success Story 2020]
BoostUp! 2020 was a unique pan-European business competition whose objective was to identify promising European venture opportunities and then support them in realizing their ambitions. The competition targeted companies that had solutions contributing to a sustainable, resilient and socially impactful manufacturing ecosystem.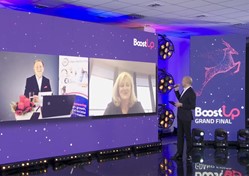 What is BoostUp! 2020?
BoostUp! 2020 was the first edition of EIT Manufacturing's BoostUp! competition series. It sought to identify European entrepreneurs focused on scaling their solutions to solve today's most pressing manufacturing challenges.
From over 180 applications received, a pan-European expert jury selected several dozen finalists to compete at each of EIT Manufacturing's five regional finals. The winners of the regional finals were then invited to the Grand Final, where they competed for cash prizes as well as business development & access to finance support services provided by our Business Creation team.
In addition to the competition, the BoostUp! 2020 Grand Final event convened investors, policymakers, startups, corporates and key industrial players to discuss some of the most topical issues within the manufacturing domain. Although only in its first year of operation, EIT Manufacturing's ability to convene such a network demonstrated it effective engagement with the pan-European manufacturing ecosystem.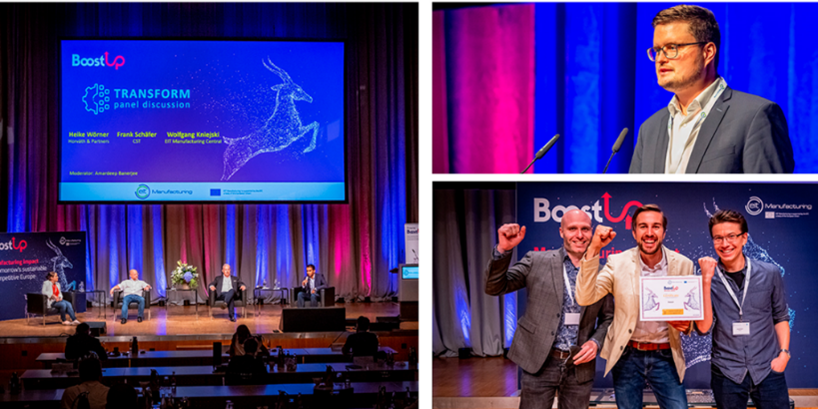 EIT Manufacturing's Business Creation and Communication teams, supported by 8 RIS hubs, succeeded in gaining substantial visibility across more than 30 national ecosystems.

The active engagement of more than 950 participants at the BoostUp! 2020 events put the focus on manufacturing startups and SMEs, especially those with promising solutions to promote the future of green manufacturing. In addition, BoostUp! 2020 winners highlighted a diverse set of entrepreneurs. The 45 regional winners included more than 880 employees covering 41 countries and more than 46 female managers or leaders. Thanks to BoostUp! 2020, at least 3 entrepreneurial teams will launch their own startups in 2021.

The Grand Final first place winners in each category are below:
• Create: ADAXIS
• Accelerate: Oculavis
• Transform: Orbis MES

Following the BoostUp! 2020 Grand Final, the Business Creation team provided the 45 regional winners with tailored access to market & access to finance support.

During 2021, the second and third editions of the BoostUp! competition series were held.

• BoostUp! RIS was held in May 2021 as part of the Manufacturing Days powered by EIT Manufacturing at ViennaUp'21. It focused specifically on startups and scaleups coming from RIS (Regional Innovation Scheme) countries.

• BoostUp! Bridge was held in October 2021 as part of WMF's World Manufacturing Week. It focused on building "bridges" for the technologies of startups to be implemented in addressing the corporate industrial challenges submitted by several of our partners. The winning startups will have the opportunity to integrate their solutions with the participating corporates; in addition they will receive cash prizes of up to €50k and "growth packages" of support services.
The Business Creation team is busy planning its next BoostUp! event in 2022 so stay tuned!
Interested to learn more?
If you're interested in learning more about BoostUp! 2020, please visit our BoostUp! 2020 webpages: