Finding innovative solutions to alleviate water scarcity in Southern Europe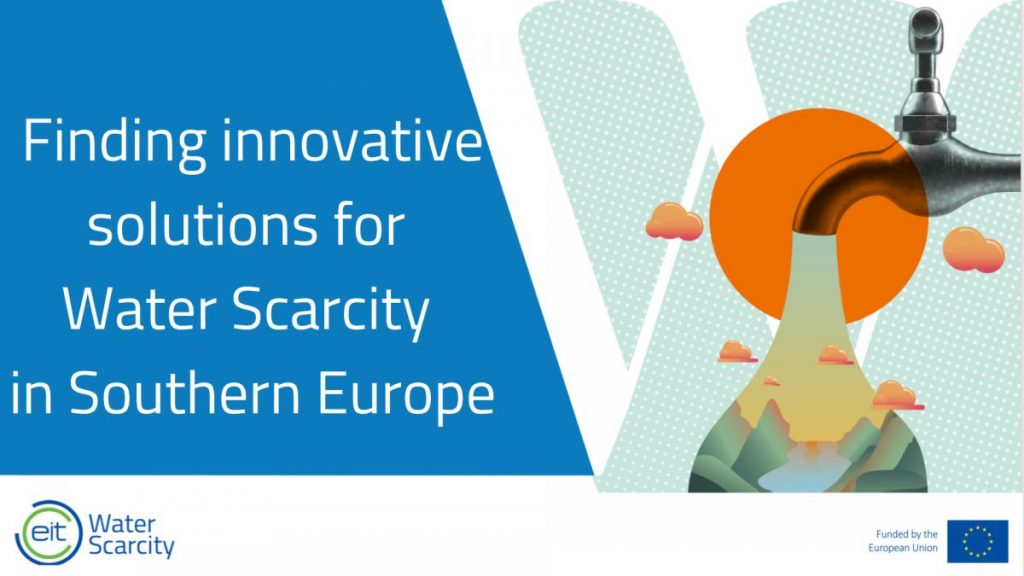 EIT Manufacturing, Food, Climate KIC and Digital KICs, Athena RC and Bioazul S.L., are leading a multiannual and multidisciplinary programme designed to alleviate water scarcity in Southern Europe. We work together considering water scarcity as a thematic field from agriculture, and food to manufacturing. 
This programme carries out a series of activities, from research to innovation and education, to joint efforts and effectively find the appropriate solutions to water shortages in Southern regions, for Europe to lead the way towards a more sustainable future. The long-term objective of the Water Scarcity programme is to ease the transition to a water saving economy across Southern Europe and contribute to reducing Europe's water consumption and wastage by:
Fostering Innovation & Entrepreneurship by supporting scaleups and SMEs offering solutions to tackle specific water-related challenges faced by several stakeholders in their daily operations (i.e. improved irrigation methods and infrastructures; resilient crops and crop management techniques; leakage reduction; usage prediction; pollutants detection and monitoring, etc.).
Creating a strong experts' community to progress on the key challenges to tackle water scarcity, with a special focus on Water Governance, Financial Schemes and Legal Enforcement and establishing solid partnerships with relevant stakeholders.
Sharing knowledge to build capabilities to business and individuals to ensure the environmental sustainability of any business and of our daily activities (i.e. industrial players, farmers, citizens), fostering the adoption of a water saving culture among final users in Europe.
Overall, the programme will strengthen local innovations and will contribute to the economic and social progress in modest and moderated innovation countries as sufficient and good-quality water supply is a prerequisite for socioeconomic development.
In 2020, the programme gathered 16 top-class experts, supported 26 startups, promoted education through several activities in Italy, Greece and Spain.
Download the report to see everything achieved last year
Project lead:
Blanca Chocarro
Cross-KIC Coordinator
EIT Manufacturing contribution: Water Academies
EIT Manufacturing is leading the Water Academy. The Water Academy is a 3 days online workshops organized for the most relevant segments on October 27th (Agri-food industry), November 3rd (Water Utilities, Municipalities & Tourism sector) and November 4th (Manufacturing industries), 2021. The workshops will be held online in English, with simultaneous interpretation in Greek, Italian and Spanish. Participation in these technical seminars will be free of charge for the participants. Subscribe here if you would like to be informed when the registration is open.
In 2020, the Water Academy was organized for Italy, Greece and Spain and covering the following topics: introduction to water scarcity; Europe's Green Deal; and water Scarcity in agriculture, urban areas and the industrial sector. Watch all the recorded sessions:
Water Academy Spain: Replay
Spain:
Water Academy Greece: Replay
Water Academy Italy: Replay
Let´s connect
Contact our headquarters or our co-location centres
EIT Manufacturing is headquartered in Paris-Saclay and has six Co-Location Centres (CLCs) across Europe.
EIT Manufacturing's Co-Location Centres (CLCs) are strategically situated to link regions that have high levels of manufacturing activity and advanced technology.