Technologies for a sustainable automotive industry – free webinar!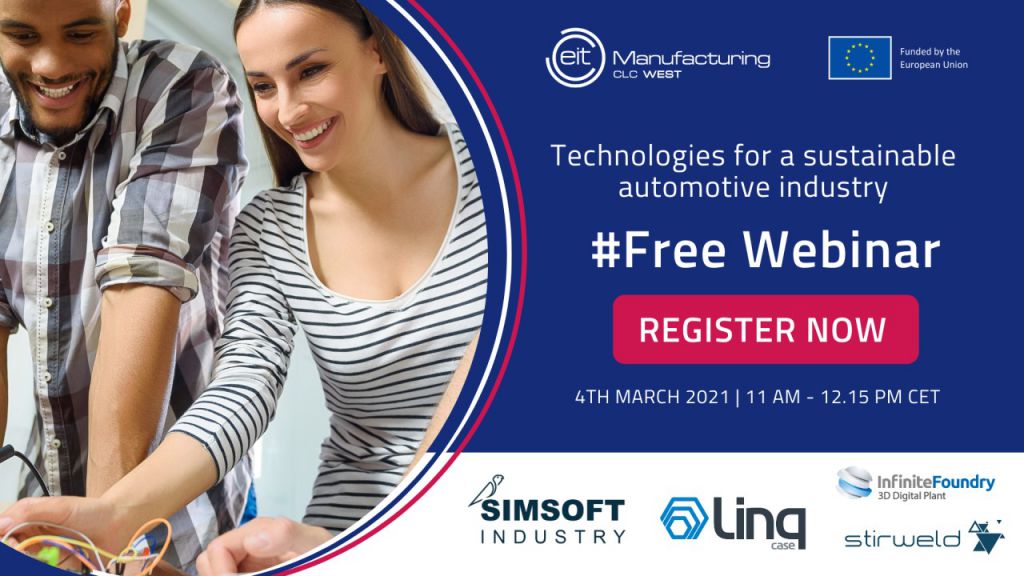 Co-hosted by: EIT Manufacturing CLC West with Mobinov
Curious about innovative technologies that could help transform the automotive industry and make it more sustainable, flexible while at the same time improve competitiveness?  EIT Manufacturing CLC West and Mobinov, Portugal's Automotive Cluster, have joined forces to share about some of the most promising technologies that could take the automotive industry to the next level.
Less defects, less waste, more eco-friendly materials, more cost-effective technologies and better work satisfaction or technicians. If your organization is facing any of these challenges, our free webinar "Technologies for a sustainable Automotive Industry" will provide some answers.
Join us for an hour and fifteen minutes of technology use cases, followed by a Q&A. A great opportunity to get you up to speed on some ground-breaking technologies that can help transform automotive!
Agenda: 4th March 2021 (from 11.00 to 12.30 CET):
11.00   Mobinov Introduction
11.05    EIT Manufacturing Introduction
11.10 Technology 1: "Shopfloor 3D digital twin for production monitoring, maintenance, optimization and virtual training"
11.25 Technology 2: "Non-destructive testing equipment, based on electromagnetic and AI technologies, for quality assurance of ferrous parts."
11.40 Technology 3: "Smart Voice Assistance for industrial environments where efficient technicians are the key for a performant production process."
11.55 Technology 4: "Low cost – High performing Friction Stir Welding (FSW) for aluminum through removable heads that can be assembled in any CNC machine".
12.10 Closing words.
The automotive industry is working on creating tomorrow's sustainable mobility, and some of the main questions to answer are:
How to use and recycle scarce resources;
How to reduce waste and energy consumption;
How to consider circular economy;
How to ensure a mobility that is less polluting
The future of Europe's automotive sector will depend on applying systemic innovation, including ground -breaking technologies – and it's happening now!
Register for free at https://lnkd.in/gtEPzYH.