EIT Manufacturing and Slovak Ministry of Economy sign Memorandum of Understanding
EIT Manufacturing and Slovak Ministry of Economy sign Memorandum of Understanding to strengthen innovation capacity in Slovakia
Vienna & Bratislava, 24th November 2021. EIT Manufacturing is pleased to announce the signing of a Memorandum of Understanding (MoU) with the Slovak Ministry of Economy. With this document, both parties formalize their plans to collaborate and combine their efforts to make Slovakia's manufacturing ecosystem more innovative and competitive in the future.
The manufacturing industry has always been the backbone of Europe's economy. Especially Eastern European countries tend to become more important for Europe's supply chains. EIT Manufacturing is actively supporting Central and Eastern European countries as part of its Regional Innovation Scheme (RIS) with access to EIT Manufacturing's network, initiatives and programmes in order to boost innovation capacities across Europe. With targeted activities, EIT Manufacturing seeks to collaborate with national and regional authorities in all RIS countries to support the local ecosystems with joint activities. EIT Manufacturing is an innovation community supported by the European Institute of Innovation and Technology (EIT), a body of the European Union.
In July 2021, EIT Manufacturing started to intensify its efforts in Slovakia by reaching out to the Slovak Ministry of Economy to discuss potential ways for collaboration to support the local manufacturing ecosystem. In various meetings, both parties identified several areas of common interest. The discussions concluded into an agreement with the objective to broaden the mutual support for Slovak manufacturing SMEs, for example with specialized trainings to support the companies to become more resilient and digitalized.
On 23rd November, a delegation of EIT Manufacturing, consisting of Dr. Konstantinos Georgoulias, Director of Regional Innovation Scheme (RIS) and EU Affairs, Johannes Hunschofsky, Managing Director CLC East and Megi Witerna-Plaku, RIS Relationship Manager, met the Deputy Prime Minister and Minister of Economy of the Slovak Republic, Ing. Richard Sulík, to sign a Memorandum of Understanding. The Slovak Minister was accompanied by Mr. Tomáš Kakula, DG of Section of Competitiveness, Mr. Robert Šimončič, DG of Slovak Investment and Trade Development Agency, and Mr. Martin Svoboda, DG of Department of Innovation and Applied Research.
The Slovak Deputy Prime Minister and Minister of Economy Richard Sulík is glad that "… the signing of the memorandum creates more space for industry innovation in Slovakia that improves the competitiveness of our companies." The Memorandum of Understanding also creates space for innovators to be more involved in international networks and organisations. "I believe that our innovators will benefit from this opportunity, and vice versa, foreign colleagues will benefit from implementing their innovations in Slovakia," the minister adds.
"We are very happy to sign this Memorandum of Understanding with the Ministry of Economy in Slovakia. It underlines the willingness of EIT Manufacturing to work together with national authorities for enhancing innovation capacity, especially in EIT RIS countries, as well as the trust from the Slovak Minister of Economy in what EIT Manufacturing has to offer.", says Dr. Konstantinos Georgoulias, Director of Regional Innovation Scheme (RIS) and EU Affairs, EIT Manufacturing.
Collaborations between pan-European organisations and national authorities are much needed to promote European innovation cohesion and in order for the European Union to be competitive on a global level. The Memorandum of Understanding between the Slovak Ministry of Economy and EIT Manufacturing contains inter alia training initiatives to jointly ensure the availability of well-skilled and trained workforce that is able to tackle the challenges the manufacturing industry is facing in the wake of emerging new technologies in Industry 4.0 as well as in the during the ongoing global pandemic.
Johannes Hunschofsky, Managing Director CLC East, EIT Manufacturing, expects an intensive exchange and close cooperation with the Slovak ministry: "This Memorandum of Understanding paves the way for a fruitful and fostered collaboration between the Slovak Ministry of Economy and EIT Manufacturing to the benefit of the Slovakian innovation ecosystem and its stakeholders. We are looking forward to joining forces with the Slovak Ministry of Economy in supporting the Slovak innovation ecosystem."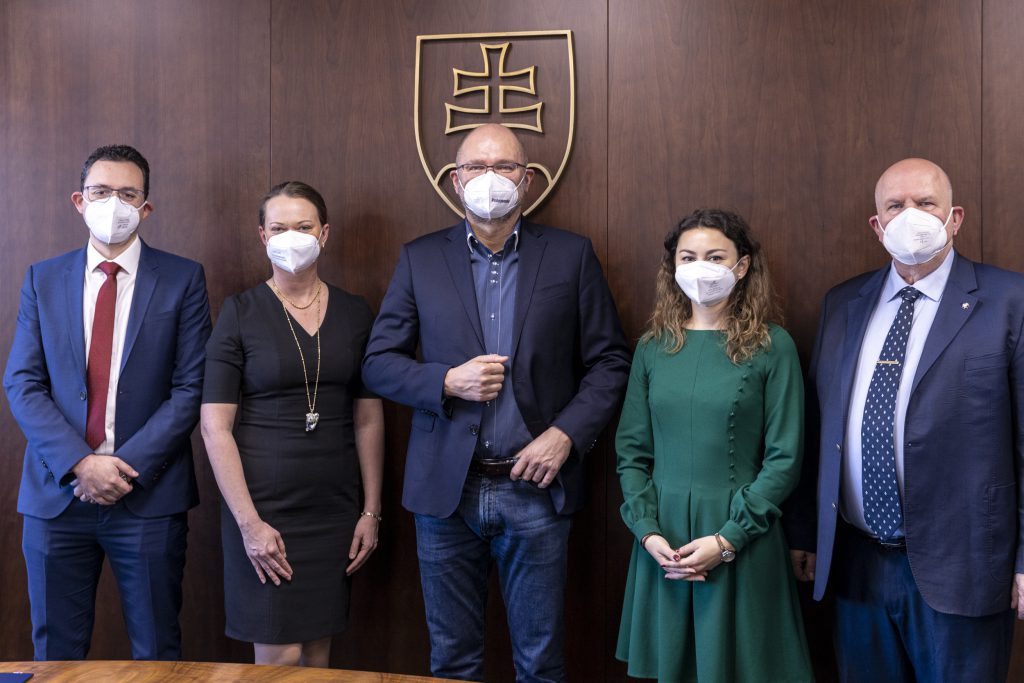 Dr. Konstantinos Georgoulias, Director of Regional Innovation Scheme (RIS) and EU Affairs, EIT Manufacturing
Martina Malakova, President, Industry Innovation Cluster Slovakia
Ing. Richard Sulík, Deputy Prime Minister and Minister of Economy of the Slovak Republic
Megi Witerna-Plaku, RIS Relationship Manager, EIT Manufacturing
Johannes Hunschofsky, Managing Director CLC East, EIT Manufacturing