Gazelle Accelerator 4th Open Call 
Do you have an innovative solution for one of our manufacturing challenges? Join the fourth edition of Gazelle Accelerator – applications are now open!
Gazelle Accelerator is organizing its 4th programme, set to run from mid-November through to the end of the year. The Gazelle Accelerator programme aims to support technology-based startups, scaleups and SMEs by accelerating their international business, innovation and financial capacities.
Since its launch in 2020, Gazelle Accelerator has received a total of 75 applications from promising entrepreneurs focusing on four selected industry challenges: analytics and artificial intelligence, internet of things, simulation and augmented/virtual reality and manufacturing applications.
This edition of the Gazelle Accelerator programme will begin in mid-November with four virtual Community Booster Camp Days, which will cover training on access-to-market as well as feedback sessions on your pitch. At the end of November, Gazelle Accelerator will host a Roadshow Day, after which some selected startups are chosen to pitch in front of investors.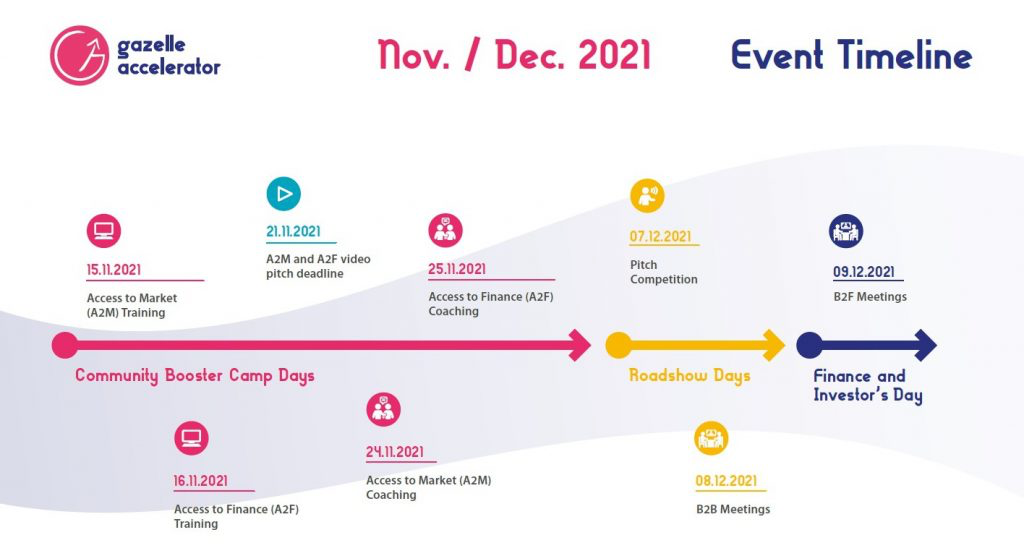 SMEs and startups will participate in the Acceleration Follow-up programme which is structured around 6 actions: Inform, support, create new value chains, B2B, finance and follow-up.
About the Gazelle Accelerator Programme
Gazelle Accelerator was born out of a need to support European technology-based companies with high-growth potential but whose expansion may be hindered by industrial fragmentation and their lack of visibility in the European market. The objective of the Gazelle Accelerator programme is to equip existing technology-based companies, in particular startups and SMEs, with the network and support that they will need to expand and become future European Gazelles. The Gazelle Accelerator team is made up of industrial, research and academic partners. In addition, complementary expertise is brought onboard to upgrade and accelerate promising startups and SMEs through this ambitious support program.
For more information contact:
Florian Ruf
Project Manager – Gazelle Accelerator
ruf@aerospace-valley.com
Anne Keroué
Project Manager Coordinator – Aerospace Valley
keroue@aerospace-valley.com