CYRUS – enhanced cybersecurity skills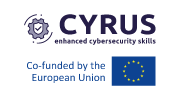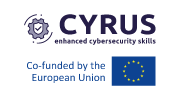 CYRUS is an EU project dedicated to helping companies in transport and manufacturing combat cybersecurity threats and attacks.
The acronym CYRUS stands for "A personalised, customised, work-based training framework for enhanced CYbeR-security skills across indUstrial Sectors".
In this project, the consortium, which consists of eleven project partners from nine EU countries, is creating personalised training and work-based learning and training assessment methodology for cybersecurity. The goal is to deliver a complete set of skills and measures to be vigilant, identify and respond to cyber-attacks. Virtualisation dedicated cyber-range simulations in operational settings and work-based learning will allow timely and efficient course delivery.
EIT Manufacturing Central leads the communication and dissemination activities and works closely with the consortium partners to exploit project results.
CYRUS project partners
Lead organisation: Deep Blue S.r.l, Italy
CEFRIEL Società consortile a Responsabilità Limitata, Italy
EIT Manufacturing Central gGmbH, Germany
European Federation for Welding, Joining and Cutting, Belgium
G & N Silensec LTD, Cyprus
Italienische Handelskammer für Deutschland, Germany
Stichting VU, Netherlands
Stowarzyszenie Polska Platforma Bezpieczenstwa Wewnetrznego, Poland
Union Internationale des Chemins de Fer, France
Universitat Spiru Haret, Romania
Viesoji Istaiga Lietuvos Inovaciju Centras, Lithuania
Katharina Opitz
Communication Associate
Funded under
This project has received funding from the European Union's DIGITAL-2022-TRAINING-02 programme under grant agreement No 101100733.