Innovation in Manufacturing: How to Find Partners and Funding with EIT Manufacturing
Expand your network and work with companies, universities and research institutes from all over Europe on innovation projects and new technologies. EIT Manufacturing, the largest European network for the manufacturing industry, will help you.
Attend the free EIT Manufacturing Workshop on 31 March 2023 at CIIRC CTU in Prague and learn more about the many support options offered by EIT Manufacturing. Program offers presentations by leading experts from the industry and representatives of EIT Manufacturing.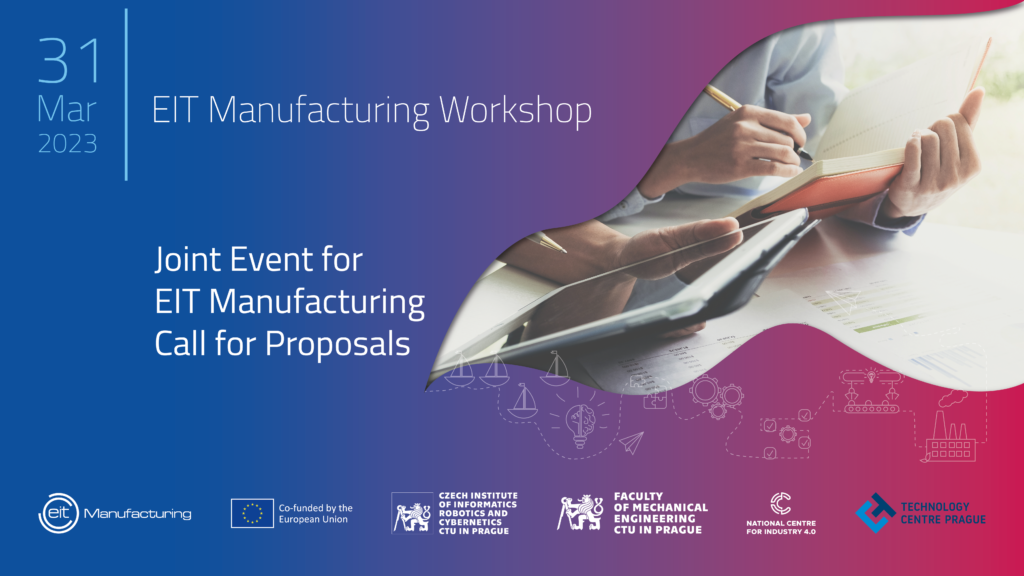 EIT Manufacturing CLC East in cooperation with the Czech Technical University in Prague, namely CIIRC CTU, FME CTU and National Centre for Industry 4.0 with the support of Technology Centre Prague and CzechInvest invite you to a free workshop:
 31 March 2023, 9:30 – 14:00, CIIRC CTU, building A – 10th floor (Penthouse)
The event is designed for all actors in manufacturing and production:
Producers and manufacturers
Technology innovators
Start-ups and Scale-ups
Technology and application engineers
What you will get by attending the workshop:
An overview of many support options offered by EIT Manufacturing
Concrete presentations and best practice by leading experts from the industry from Germany and Austria
Open financial calls and topics for this year and how to participate and apply with your innovative projects
Benefits of EIT Manufacturing for your company operations
Best ways to find the right industrial partners across Europe
Inspiration from past projects and activities
Personal meeting with representatives of EIT Manufacturing
Networking
Programme
Official language of the event is English.
9:30 – 10:00 Registration
---
10:00 – 10:05 Welcome and Opening Remarks
---
10:05 – 10:25 EIT Manufacturing – Opportunities of our European Network
Johannes Hunschofsky | Managing Director, EIT Manufacturing CLC East
---
10:25 – 11:05 References from Industry
Sharing best practice of manufacturing companies involved in EIT Manufacturing projects. What is their experience with innovation projects and what benefits do they get from the EIT Manufacturing partner network?
---
Wiferion | Alexander M. Schmoldt, Director for Business Development & Strategic Parterships (on-line presentation)
Wiferion is the leading solution provider for mobile wireless power supply for electric industrial vehicles, was founded in 2016 by four former employees of the Fraunhofer Institute for Solar Energy Systems and is one of the technology drivers in the field of wireless charging. Wiferion creates the basis for a resource-saving and sustainable energy supply. From inductive charging technology to energy management solutions, Wiferion offers a range of products that enable efficient energy supply to industrial trucks, automated guided vehicles (AGV) and autonomous mobile robots (AMR). The technology also includes retrofit projects for existing fleets. The flexible and scalable integration of Wiferion products enables users to sustainably increase their utilization and fleet efficiency by up to 30%.
enerHUB is a two-year EITM financed project with a consortium that consists of Volkswagen, Asseco CEIT, Nemak and Wiferion. The goal of the project is to develop a software platform for value optimization of industrial battery-electric vehicle fleets using digital twins and artificial intelligence.
---
RoboTwin | David Polák, Co-founder,
RoboTwin is a Czech start-up focused on no-code robotics in manufacturing, specifically in industrial painting. Since the initial idea, the founders have been working with EIT Manufacturing. Read more about their journey from initial idea to product here.
---
11:05 – 11:25 Selected Projects Implemented with CTU Participation
ConFacts II | Pavel Burget, Head of Testbed for Industry 4.0, CIIRC CTU
The ConFacts project aims to help companies to take advantage of the potential of digital transformation. It focuses on technology solutions for smart manufacturing ecosystems, and the key enabling technologies such as IIoT, edge computing, data collection and evaluation in cloud. The project partners provide companies with modular demonstrators to test real production problems and create digital training courses to up-skill their staff.
---
EIT Manufacturing Educational Projects | Petr Kolář, Head of Research Center of Manufacturing Technology, Faculty of Mechanical Engineering CTU in Prague
A number of educational projects implemented at the CTU in Prague have created modern educational programs for industry focusing on the topics of modern manufacturing: digital twins and the potential of their use for the preparation, testing and optimization of NC machining strategies, condition monitoring of machine tools and processes as a means of increasing production efficiency, smart manufacturing systems and flexible automation, industrial robotics, or modern approaches to manufacturing using additive and hybrid technologies.
---
11:25 – 11:55 Coffee break
---
11:55 – 12:15 Flagship Areas for the Upcoming Period and Call for Proposals
Gerhard Russ | Innovation Manager, EIT Manufacturing East
---
12:15 – 12:30 Introduction of the EIT Manufacturing Hub Czechia
Anna Tahovská | Project Manager, CTU
Alena Burešová | Senior Manager for Industry, National Centre for Industry 4.0
---
12:30 – 12:40 Insight: Enterprise Europe Network
Silva Jirásková | Coordinator of the national consortium of the Enterprise Europe Network, Technology Centre Prague
---
12:40 – 14:00 Lunch and Networking
---
13:10 – 14:00 Guided tours in the Testbed for Industry 4.0 with presentations of specific areas of possible cooperation and examples of already implemented projects
For the full bios see the links below
---
Hannes Hunschofsky is serving as Managing Director of EIT Manufacturing East located in Vienna, Austria, supported by the European Institute of Innovation and Technology (EIT). Previously, Mr. Hunschofsky served as CEO/COO/President/Exec. VP for companies like GE Jenbacher, August Storm and HOERBIGER and has experience in leading global manufacturing companies in North America, Europe, and Asia. He speaks internationally on manufacturing strategy and leadership topics and has addressed audiences at the Austrian Trade Commission in the US, Bank of America, Deutsche Bank, the Institute of Business Forecasting (IBF), the Technical University Munich (TUM), the Technical University Vienna (TU Wien), the Industry of Things World Congress, to mention a few. 
Alexander M. Schmoldt is the Director for Business Development & Strategic Parterships at Wiferion. After decades of work for global Japanese electronics manufacturers in functions building bridges between R&D in Japan and European market while acting in roles such as product manager, business development manager or business innovation manager, he finally switched sides. At the German startup Wiferion he is now helping to bring high power wireless charging to logistics and production processes in Europe or Japan. As a true believer in the power of collaboration, he is dedicating his work to finding ways to create business out of the combination of strengths of different partners. EIT-M is a perfect place to makes this happen.
David Polák is responsible for hardware, customer contact and sales at RoboTwin. He is experienced with the implementation of automation solutions on automatic lines. The dream is to automate industry even where it is not yet possible, and to implement modern innovations that are technologically available but still not applied in industry.
RoboTwin brings no-code robotics to the surface treatment industry. The painter attaches the recording unit with sensors to the paint gun and paints the first piece in production. RoboTwin records the data, processes it and generates a program for the robot. The robot is then able to automatically paint the remaining pieces in the series.
Petr Kolář He is the head of research topics focused on manufacturing machinery and equipment at the Faculty of Mechanical Engineering and topics related to industrial production and automation (IPA) at the Czech Institute of Informatics, Robotics and Cybernetics, CTU in Prague. He has a lot of experience in implementing applied research projects with Czech and foreign industrial companies. For more than two years he worked as a researcher at Fraunhofer IWU Dresden. His expertise is dynamic behaviour of production machines, smart production machines and practical implementation of Industry 4.0 concept.
Gerhard Russ is Innovation Manager at EIT Manufacturing. He is the main contact for all innovation activities in the countries located in the CEE Region. In this function, he works closely with partners from industry and science from all over Europe to develop ideas, concepts and strategies for innovations. In addition, he is responsible for the development and improvement of the innovation call and the innovation project portfolio.
Anna Tahovská works as a senior project manager at CIIRC CTU, leads the Czech office of the AI confederation CLAIRE and coordinates the activities of the EITM Hub at CTU.
Silvia Jiraskova heads the Business Development Department at the Technology Centre Prague and is the coordinator of the national consortium of the Enterprise Europe Network, which TC Prague has represented in the Czech Republic since 2008. She previously worked in sales and marketing in the chemical and pharmaceutical sectors and managed a number of projects funded by the Structural Funds. At TC Prague, Silvia has long been involved in supporting the overall development of young technology-oriented companies and in the area of financing of innovations and business growth. Silvia helps companies with orientation in national and European programmes, identification of appropriate resources, including mentoring of business plans, and prepares companies for negotiations with investors.