EIT Manufacturing Workshop Ljubljana
EIT Manufacturing Workshop Ljubljana
Expand your network and collaborate with companies, universities and research institutes from all over Europe on innovation projects and new technologies. EIT Manufacturing, the largest innovation network for manufacturing in Europe, will help you!
Attend the free EIT Manufacturing Workshop on 12 May 2023 at Radisson Blu in Ljubljana and learn more about the many support options offered by EIT Manufacturing. The programme offers presentations by industry-leading experts and representatives of EIT Manufacturing.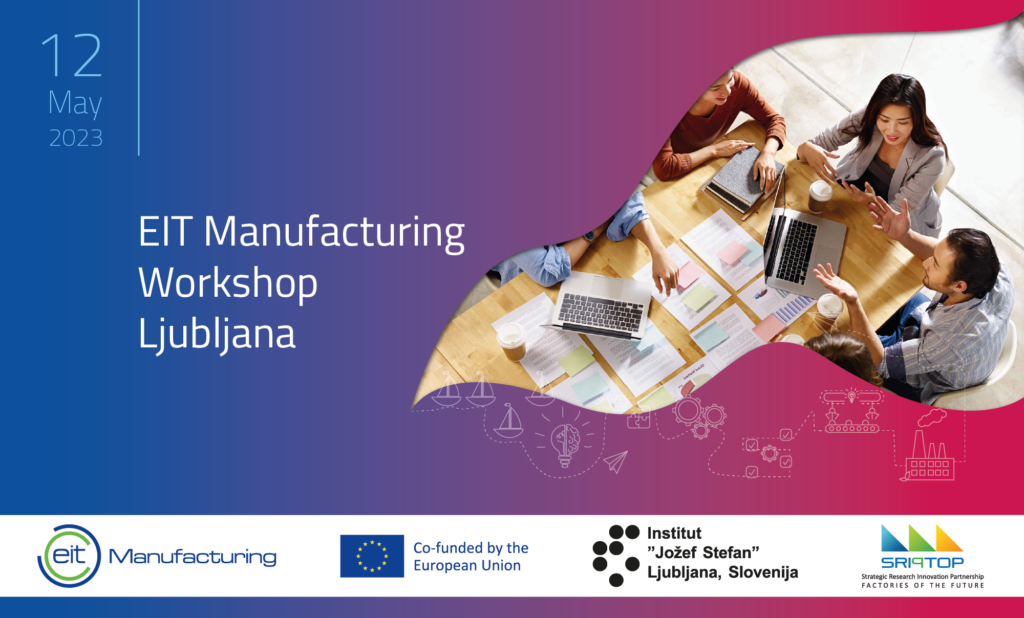 EIT Manufacturing East, in cooperation with the Jožef Stefan Institute and SRIP Top in Ljubljana, cordially invite you to a free workshop where you can learn more about the opportunities EIT Manufacturing offers and network with fellow industry professionals.
The event is tailored for all manufacturing and production stakeholders, namely:
• Producers and manufacturers;
• Technology innovators;
• Start-ups and Scale-ups;
• Technology and application engineers.
By attending the workshop, you will gain the following benefits:
• A comprehensive overview of the many support options offered by EIT Manufacturing;
• Concrete presentations and best practice examples by leading experts from the industry;
• Open financial calls and topics for this year and how to participate and apply with your innovative projects;
• Benefits of EIT Manufacturing for your company operations;
• Best ways to find the right industrial partners across Europe;
• Inspiration from past projects and activities;
• Personal meeting with representatives of EIT Manufacturing;
• Networking lunch.
Note: The event will be held in English.
Programme
09:30 – 10:00 Registration
---
10:00 – 10:10 Welcome and Opening Remarks 
Johannes Hunschofsky, EIT Manufacturing East

Igor Kovač, Jožef Stefan Institute
---
10:30 – 11:40 References from Industry & Academia
Prof. Dr. Franci Pušavec, University of Ljubljana
Prof. Dr. Franci Pušavec is an experienced researcher and lecturer who has published 64 original scientific research papers in renowned journals. He will be sharing his experience working on innovation and education projects as well as best practices regarding EIT Manufacturing activities and the Slovenian industry and research environment.
Leon Panjtar, CEO, SaleSqueze
Leon Panjtar is a highly experienced entrepreneur with 15 years of experience. He will share his experience working with EIT Manufacturing as well as his journey and milestones reached.
Boris Saje holds a Ph. D. in metallurgy and has more than 30 years of experience in the field of hard magnetic materials. He will talk about best practices in externally funded industrial projects.
---
11:40 – 12:00 Innovation: Opportunities for Members, Call for Proposals, Business Intelligence
Gerhard Russ, Innovation Manager, EIT Manufacturing East
---
12:00 – 14:00 Lunch and Networking