5th Vienna Production Congress – Smart and Networked Manufacturing
The Institute of Production Engineering and Photonic Technologies of TU Wien and EIT Manufacturing invite you to join the 5th Vienna Production Congress on 5th and 6th October 2022 in Vienna, Austria.
The 5th Vienna Production Congress 2022 addresses challenges of smart and highly adaptive manufacturing systems and the appropriate information technology including the application of machine learning algorithms for fast process adaptations. Top ranked national and international experts from governmental organizations, industry and research institutions will give insight into the newest results of technological, functional and implementation issues for industrial applications.
In our late-modern mindset, the industrial society's logic of the general, incorporated in the concepts of high volume production, is more and more replaced by the logic of the particular, the individualized, accompanied by the awareness of the need to taking care of our planet. We value the exceptional – unique products and objects, experiences, places, individuals and communities which are beyond the ordinary and which claim a certain authenticity. This decade will be dominated by society's changes e.g. in the thinking of mobility, which clearly affects the production industry. Among key enabling technologies, future manufacturing will change the way people and machines physically interact taking into account safety and ergonomics. Digitalization, connectivity and interoperability are of central importance for the next generation of manufacturing systems to connect products, machines, people and the environment – aiming for operational excellence, autonomous capabilities and the creation of physical value by using information. Cyber Physical Production Systems (CPPS) ultimately represent a central entity.
The Vienna Production Congress 2022 strives to connect decision makers, production managers and manufacturing engineers with a network of experts – an opportunity to discuss best practice solutions and to contribute in shaping the future of manufacturing.
EIT Manufacturing CEO, Klaus Beetz, will introduce The European Manufacturing System in his keynote speech on 5th October 2022!
EIT Manufacturing will host a parallel session on 6th October 2022!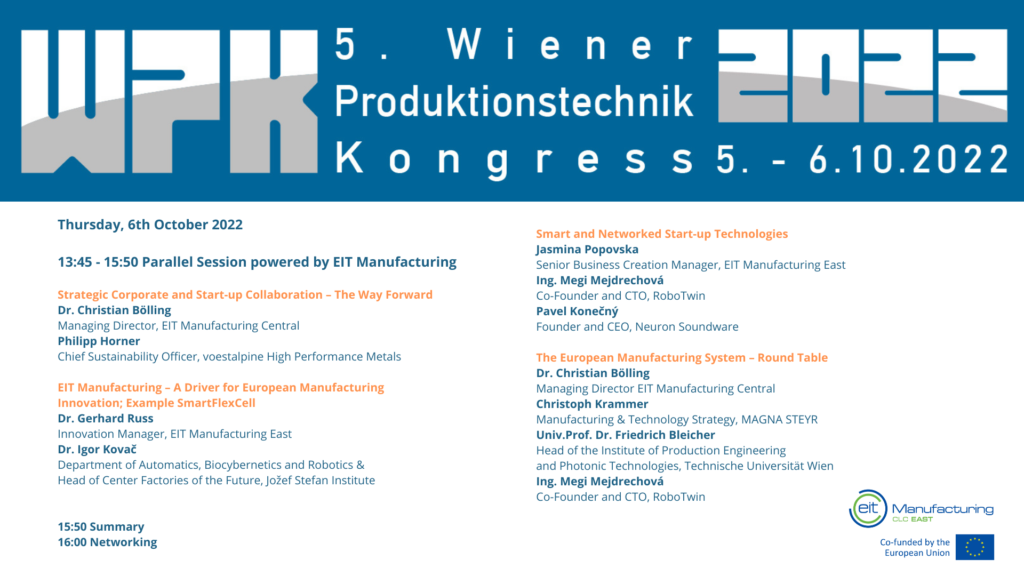 The first congress day will be streamed online! Find all ticket information here!
Event Language: English
Join the 5th Vienna Production Congress 2022
The Vienna Production Congress is organised by: