Manufacturing Day
Green is the new black – From Smokestacks to Sustainability
The Manufacturing Day is the leading event during ViennaUP'23 to bring together start-ups, key industrial players, investors, and experts in global manufacturing. It celebrates the achievements and potential of the European manufacturing industry. This year's theme, "Green is the new black – From Smokestacks to Sustainability," focuses on the industry's transition towards environmentally-friendly and sustainable manufacturing practices.
The Manufacturing Day aims to showcase the latest innovations and technologies that are driving this transition and to inspire the next generation of manufacturing professionals to take an active role in shaping the future of the industry. The event offers a varied and rich programme for and with start-ups in the manufacturing industry.
We are proud to announce our keynote speakers! 
Futurist Gerd Leonhard will open the Manufacturing Day with a keynote speech on the topic of "The Future of European Manufacturing 2050".
Mariana Mazzucato will give a keynote speech on "The role of innovation in the green transformation of the manufacturing industry". Afterwards, she will participate in the panel discussion with the title "Greenovation – Manufacturing the Day after Tomorrow" together with other leading industry experts. The panel will elaborate on the impact of innovation on the transition to sustainable manufacturing practices and the challenges and opportunities that come with it. All panelists will be open for questions!
Moreover, the Manufacturing Day features pitching sessions of high-tech manufacturing start-ups from all over Europe in the BoostUp! East 2023 competition.
The event provides a platform for networking and collaboration between industrial corporates, investors, policymakers, academics, and many others!
And after all of that we will celebrate with cocktails and BBQ!
You can schedule physical 1:1 meetings in our Matchmaking Area during the networking sessions of the event. The booking phase starts on 2 May 2023.
After the event, you will also have the chance to schedule online meetings with other participants.
If there is enough interest, free shuttle busses (from Graz, Linz, Brno and Bratislava) to the Manufacturing Day 2023 in Vienna will be offered. You can indicate your interest in this service during the registration.
Participation to this event is free of charge. Join us in Vienna!
The event will be on-site only!
Learn more about the keynote speakers!
Mariana Mazzucato & Gerd Leonhard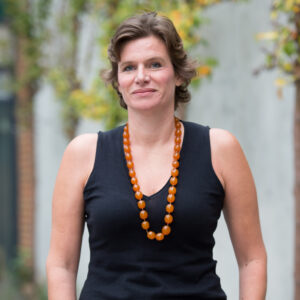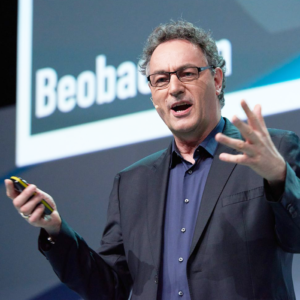 Professor University College London
Author of The Big Con

Advisor to policymakers around the world on innovation-led inclusive and sustainable growth

Mariana Mazzucato (PhD) is Professor at the University College London, where she is Founding Director of the UCL Institute for Innovation & Public Purpose (IIPP). She received her BA from Tufts University and her MA and PhD from the Graduate Faculty of the New School for Social Research. Her previous posts include the RM Phillips Professorial Chair at the Science Policy Research Unit (SPRU) at Sussex University. She is a selected fellow of the UK's Academy of Social Sciences (FAcSS) and of the Italian National Science Academy (Lincei).

Mariana is winner of international prizes including the Grande Ufficiale Ordine al Merito della Repubblica Italiana in 2021, Italy's highest civilian honour, the 2020 John von Neumann Award, the 2019 All European Academies Madame de Staël Prize for Cultural Values, and the 2018 Leontief Prize for Advancing the Frontiers of Economic Thought. She was named as one of the '3 most important thinkers about innovation' by The New Republic, one of the 50 most creative people in business in 2020 by Fast Company, and one of the 25 leaders shaping the future of capitalism by WIRED. Most recently, Pope Francis appointed her to the Pontifical Academy for Life for bringing "more humanity" to the world.

She is the author of four highly-acclaimed books: The Entrepreneurial State: debunking public vs. private sector myths (2013) which investigates the critical role the state plays in driving growth; The Value of Everything: making and taking in the global economy (2018) which looks at how value creation needs to be rewarded over value extraction; Mission Economy: a moonshot guide to changing capitalism (2021) rethinks the capacity and role of government within the economy and society; and most recently The Big Con: How the Consulting Industry Weakens our Businesses, Infantilizes our Governments and Warps our Economies (2023).

She advises policy makers around the world on innovation-led inclusive and sustainable growth. Her current roles include being Chair of the World Health Organization's Council on the Economics of Health for All, Co-Chair of the Global Commission on the Economics of Water, Co-Chair on the Council on Urban Initiatives, member of the South African President's Economic Advisory Council, the UN High Level Advisory Board for Economic and Social Affairs, the European Space Agency's High-Level Advisory Group on Human and Robotic Space Exploration for Europe, Argentina's Economic and Social Council and Vinnova's Advisory Panel in Sweden and the OECD High-Level Advisory Panel on Climate and Economic Resilience. Previously, through her role as Special Advisor for the EC Commissioner for Research, Science and Innovation (2017-2019), she authored the high-impact report on Mission-Oriented Research and Innovation in the European Union, turning "missions" into a crucial new instrument in the European Commission's Horizon innovation programme, and more recently, authored a report with the UN's Economic Commission for Latin America and the Caribbean (ECLAC) on Transformational Change in Latin America and the Caribbean: A mission-oriented approach.

More information: www.marianamazzucato.com

Futurist; Author and CEO of The Futures Agency

ONE OF THE MOST INFLUENTIAL PEOPLE IN EUROPE

Gerd Leonhard is a Futurist and a Humanist, a leading global Keynote Speaker, the Author of 5 books including 'Technology vs. Humanity' and a Film-Maker. He is a Fellow of the Royal Society for the Arts in London, and the CEO of The Futures Agency in Zürich / Switzerland.

"People, Planet, Purpose and Prosperity" is Gerd's motto, and helping to create "The Good Future" is his key objective. Gerd is one of the top-rated futurists worldwide; he has presented at over 1700 leading conferences and events over the past 20 years and has worked with the likes of Microsoft, NBC, Visa, Google, the European Commission, L'Oréal, Audi, Deloitte and IBM. Gerd has influenced and inspired millions to "imagine and create a better tomorrow". He was named as one of Wired UK's Most Influential Europeans in 2015 and is listed as #7 in the global ranking of futurists.

As a leading voice on the future of humanity, and the bestselling author of "Technology vs Humanity: The Coming Clash Between Man and Machine", Gerd has built a storied reputation as the go-to keynote speaker and thought leader when it comes to digital ethics, human-centric technology, sustainability, and the need for a new, future-fit economic logic.

Fore more information, please visit Gerd's website: www.futuristgerd.com
We offer our sponsors two attractive sponsoring packages as well as individual services to accomodate the needs of all partners.

What's in it for you?
EIT Manufacturing will promote the event all over Europe through its channels, its partners and their networks. This will provide you excellent visibility with a relevant target audience before, during and after the event. Organised for the third time already, the Manufacturing Day is a cornerstone of the ViennaUP festival, providing a stage and meeting place for manufacturing representatives from all over Europe to network and exchange.

Check out our two Sponsorship Packages!

>> Supporter Package [1.500 EUR]

> Logo Placement in online communication and during the event
> Roll-up placement in the venue
> We display your print material / brochures during the event
> The Sponsor will be mentioned during the opening ceremony

>> Partner Package [3.500 EUR]

> Logo Placement in online communication and during the event
> Roll-up placement in the venue
> We display your print material / brochures during the event
> The Sponsor will be mentioned during the opening ceremony
> Booth in the Expo Area
> We show your company video on our 16m² LED video wall at the
venue
> You can provide a merchandise item for the attendees
> 300 EUR Voucher for EIT Manufacturing Marketplace
> Interview with the Sponsor published on the EIT Manufacturing Website

Want to have exclusive visibility?
Become a sponsor of our culinary offer or our Matchmaking Area, or provide a special award for one of the BoostUp! East 2023 finalists!

> Bar powered by …
> BBQ powered by …
> Matchmaking Area powered by …
> Special Award by …

Incl. logo placement (event platform, print agenda, 16m² LED video wall), roll-up placement, brochure/print material displayed during the event, sponsor mentioned in opening session, company video on 16m² LED video wall. The event area (Bar, BBQ, Matchmaking) will be branded with the sponsor logo.

Not enough yet?
Get your own exhibition area and bring your partners to the Manufacturing Day!

We offer three Community Corners:

30m²: Main Booth + 8 Partner Booths
25m²: Main Booth + 6 Partner Booths
20m²: Main Booth + 5 Partner Booths
Communication Manager
Theresa Neuhauser