SUSTAINABLE FASHION CONFERENCE
SUSTAINABLE FASHION CONFERENCE
According to the United Nations, fashion is one of the most polluting industries on the planet and the current production and consumption system known as "fast fashion" aggravates the great environmental challenges that we currently face with the overproduction of garments and other factors, such as, the sourcing of materials used to construct said garments, which directly impact the environment.
EIT Manufacturing invites you to participate in its latest event "Agenda 2030: how can fashion have a positive impact on global well-being?", a conference organized by GK Green Fashion, to discuss topics such as circular fashion, sustainable fashion and the effect of fashion on environment. The event will be held on October 20 in DV Gunea (Mikeletegi Pasealekua 1, San Sebastián).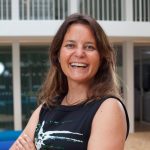 Teresa Hernandez, Innovation Manager at EIT Manufacturing West, will participate in a round table about "Innovation and Education, the strategic points of change" (13.30h-14.30h).
Turn up to the event and find out how to be part of the change!
Send an email here if you'd like to attend.
Event language: Spanish