The opportunity to pitch is always a win – in more than one sense of the word. On pitch day for the "Pre-accelerator in Ukraine – powered by EIT Jumpstarter", 16 Ukrainian teams had the opportunity to win, learn and to connect with each other.
Pitch day took place 9 March 2023 as an online competition which was open to everybody to attend. A jury of experts watched closely and decided who will win 7,500€ and 5,500€ and 3,500€ monetary prizes and will be supported by the network of the EIT Communities.
The 16 teams have been selected from more than 150 who applied to the "Pre-accelerator in Ukraine – powered by EIT Jumpstarter", an EIT Manufacturing programme which supports Ukranian innovators to turn their ideas and discoveries into successful businesses. This programme is part of the RIS programmes EIT Manufacturing offers.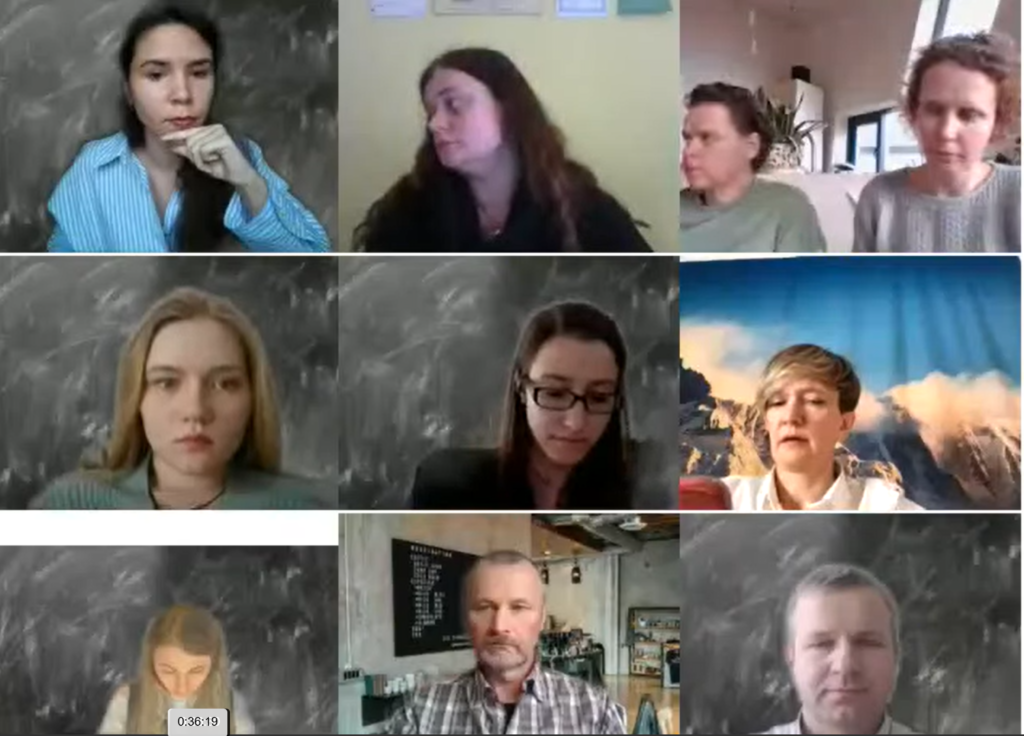 More Information about the "Pre-accelerator in Ukraine"
EIT Jumpstarter is back for 2023!
Applications are open by 16 April 2023
Head over to the RIS sphere on AGORA
For more information about the RIS (Regional Innovation Scheme) news & opportunities
Meet the 16 finalists of the "Pre-accelerator in Ukraine" programme :
androy is engaged in the creation of an underwater air multidron, a fundamentally new mode of transport. The novelty of the idea lies in the method of immersion under water, ascent to the surface of water, and aerospace. Multidron is a spiral that changes its curvature, that is, folds and unfolds. A patent for the invention was opened in the United Kingdom.

AM Bones aims to replace broken or diseased bone with an artificial implant that fully integrates with the existing bone and its tissues. The mission is to create a lifelong solution that excludes reoperations and/or implant revisions. The technology uses a biocompatible polymer that can be made from renewable resources (such as agricultural waste). It allows you to preserve the natural aesthetics of the human body and this approach is available to absolutely any person.

Learn more: www.am-bones.com

Anna Maly is an anomaly detection solution for production enterprises from different industries. It helps to increase equipment reliability and production quality by analyzing data from equipment sensors and SCADAs using a variety of ML and AI methods. The idea will have a direct significant positive result for manufacturing enterprises and an indirect positive opinion from the public and socio-economic side by reducing equipment failure/accidents, and as a result, reducing the impact on the environment, ecology, directly on people's lives and health.

Learn more: https://smart-eam.com/modules/detektirovanie-anomalij/

CareTech Human's goal is to deliver an in-home uroflowmetry solution that will operate in a fully automated regime (i), integrate into users' everyday routine activities without additional actions/utilization habits/activation (ii), be affordable (iii), and enable continuous health measurements and vivid urology health analytics both for user and doctor(iv).

Learn more: https://caretechhuman.com/ 

EcoTyre is a startup company that designed a concept of a modular tire recycling line in standard 20'-40' containers, "plant on the wheels." The company enables the production of valuable raw materials: crumb rubber, steel wire, textiles, and gas from end-of-life tires for re-use in the production of new tires, road surfacing, technical rubber products, plastics, covers, various building construction applications, etc. The company invented the novel patented approach to upcycle tires in an electromagnetic field with significant efficiency improvement, lower electricity consumption, and final product quality enhancement.

Learn more: http://ecotyrelab.com/ 

FoldyGO develops the first inflatable, foldable, and fully functional bicycle helmet on the market. The product potentially provides the best solution for a bike rental and sharing services as it folds up to 85% of its original size and it is predicted to have the lowest price in its segment. 

Geodesic.Life tackles the problem that wood timber and hemp are sequestering CO2 while growing and lime absorbing CO2 during the whole building's lifetime. Also, timber, hemp and lime are easier for recycling or natural decomposition after building's demolition. Therefore, team aims to combine three modern technologies as CLT, hempcrete insulation and dome shape using a prefabrication approach in order to deliver a more sustainable yet affordable from of constructing homes, making families happier and healthier.

Learn more: https://geodesic.life/ 

Insecterra cultivates a black soldier fly larvae and transforming them into sustainable protein and lipids as additives for animal feed (pet food, aquaculture, poultry, swing). Larvae with low-quality organic residues (biowaste) and they convert it into high-quality protein and fat for animal. This idea contributes to reducing the organic waste in Ukraine by converting the waste into final products for different agro-industry sectors. It also provides a high-quality, natural, and inexpensive protein source for feeding animals. Finally, as a byproduct, organic fertilizer is produced, crucial for Ukrainian crops sector (especially in state of war). 

LEDÓMOTORS AUTOMOTIVE UKRAINE plans to establish the production of electric cars from 2025, and release an electric car on the Ukrainian market and for export to the European market. Ledomotors will design a serial version SUV 5-door shooting brake electric crossover. The Start Up envisions its research-driven design LEDÓ as new electric SUV luxury shooting break by vision concept KRAЇNA AUTO coupe.

Learn more: https://krainaauto.com/ 

Mycelia Technology – is a biotechnology company that grows, explores, researches mycelium and produces leather that is animal-cruelty free, durable and used for everyday life. Mycelium leather has been news for a long time. However, its application that can be worn by the public is still nowhere to be seen. Mycelia follows the mission to speed up the process and make it an every-day item for leather products. Additionally, in our approach we use materials that are compostable and from waste or natural resources. In this way, we use circular approach in our mushroom production process.

Learn more: https://myceliatech.com/ 

OptySun offers a fully autonomous and portable solution for a small group of people who find themselves without drinking water. All that is required for its operation is the presence of water of any quality and access to sunlight or a source of electricity. The device can purify water under almost any conditions without consumable parts and chemicals. It kills 99.9% of bacteria without chemical influence. and provides 5 daily servings of water every 30 minutes. This circumvents the problems of poor logistics and access to drinking water, especially for people with disabilities who need support on a regular basis.

Learn more: https://m.facebook.com/OptySunFilters 

Reest develops mushroom harvesting robots for farms. They have developed a special mushroom gripping tool able to pick mushrooms without damaging them. The ultimate goal is to build a completely autonomous mushroom farm operated by robots. With the usage of robots, they aim to build the next generation of mushroom farms, which can produce a yield that is better in quality and quantity. Farmers will have fewer losses of harvest and the price for mushrooms can be lower. 

The team of S.D is developing an innovative technology that involves a long-term deactivating thermal microwave effect on the viruses (mainly about SARS-CoV), which provides a high degree of disinfection. The development is aimed at improving the quality of life of all mankind. The proposed equipment is part of the ventilation systems of the premises and does not manifest itself from an aesthetic point of view.

Learn more: http://texpolis.com/ 

Sorbsys batteries are a rule-changing set of technologies in the energy storage market. Sorbsys presents the world's first sustainable battery the most cost-effective, safe, with zero environmental impact, and made from renewable raw materials.  The cost of one cycle is dramatically less than existing lithium-ion batteries. Sorbsys are truly green technologies, safe and cheap. The source are endless raw materials from seawater and from an agricultural waste.

Learn more: www.sorbsys.com 

S.A offers an innovative bot that can measure the level of sustainability of companies, which will help to assess in real time, give analysis and recommendations of the extent to which the company adheres to the principles of sustainable development in its activities. It allows reducing the costs of companies to confirm their sustainability and environmental sustainability, while promoting the reduction of CO2 emissions due to the transition to environmental friendliness as the least packaging, as the most – production.

Learn more: https://sustainableagency.weblium.site/

Tehnotable intends to create an ideal workplace, where the furniture will take care of the user while he solves his tasks.  The Start Up outsources most of its products, thereby not increasing the burden on the environment, opening new production and helping partners to save jobs, which is especially important during the recession. Additionally, Tehnotable developed a platform for rehabilitation for children with clubfoot, every year 1 to 3% of children are born with clubfoot and they require a long rehabilitation process to restore the work of the Achilles .Learn more: https://tehnotable.com/ 
Any questions? Contact our team members!
RIS Operations Manager
Verónica Rodríguez
Cross-KIC RIS Manager
Patricia Karrer
About the Pre-accelerator in Ukraine programme:
A 2020 report by the European Commission highlights the rapid development of a high technology sector in Ukraine, with pockets of scientific excellence reflecting the country's successful contribution to scientific advancement over the past decades. The innovation potential of Ukraine and Ukrainians is immense and should be preserved and driven forward through programs supporting innovators and entrepreneurs, even though Ukrain is going through a very difficult political context. 
Thereby, a pre-accelerator programme providing Ukrainian researchers, students, idea holders and early-stage startups with entrepreneurial educational programs and access to finance was launched to support the sustainable reconstruction of the country, and potentially trigger a major technology and innovation leap.  This is where the idea to launch an EIT Manufacturing RIS programme the "Pre-accelerator in Ukraine – powered by EIT Jumpstarter" came from, in early September 2022.   
With the contribution of INESTEC and Tartu University, EIT Manufacturing RIS HUBs partners, high-potential early-stage teams got the opportunity to develop their business idea through online training, expert mentoring and subgranting. The methodology of the programme is based on the EIT Jumpstarter, an award-winning pre-accelerator brought to life by six Knowledge and Innovation Communities of the EIT in a project led by EIT Health.