Digitalised maintenance goes from idea to startup, by way of EIT Manufacturing
Many manufacturing SME's struggle with predictive maintenance. Now, a Lithuanian startup that began as a research project is presenting a solution to integrate predictive maintenance and online quality control ― a solution that integrates decision-support modules based on AI. It  is the second company launched within the same year from research projects led by EIT Manufacturing's Co-Location North, underlining EIT's role in commercialising research into market-ready solutions.
Imagine a platform that automates maintenance on a factory floor, identifying problems and solutions, monitoring repair work, and even predicting breakdowns before they happen. Now imagine the system is modular and affordable, so that the smallest manufacturing firms can drop it into their existing plant with ease.
The partners behind the ECOSYSTEM innovation project imagined such a platform and launched its development in the beginning of 2021. Within a few months, they had a working pilot. By the end of the year, they had gone commercial, initiated a startup, called "Future Ecosystems", to bring their system to market.
Started at the tail-end of 2021, Future Ecosystems was the second startup that came of out a North-led Innovation project during 2021.
"EIT Manufacturing works to support innovations to reach the market. So, it is really encouraging to see that this solution which has been developed to meet the needs of European SME's is being put to use to increase productivity and competitiveness for European industry!" said Johanna Stiernstedt, Innovation Manager EIT Manufacturing at CLC North.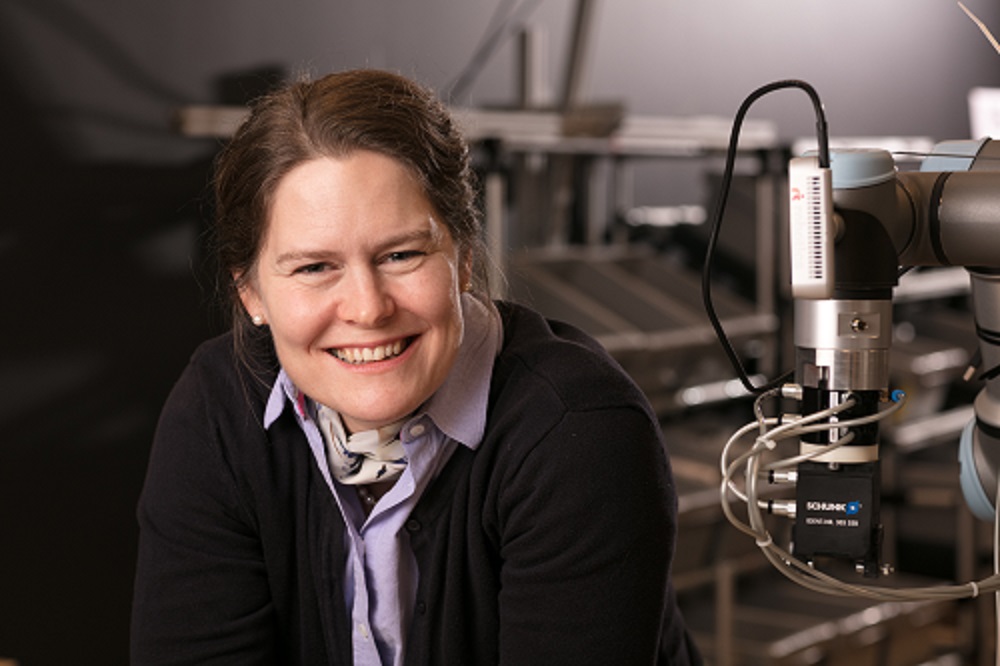 Johanna Stiernstedt, Innovation Manager at EIT Manufacturing Co-Location North
A match made by EIT Manufacturing
Technology Centre "InTechCentras" is a nonprofit in Lithuania that specialises in training for technological solutions and provides Industry 4.0 audits that help firms make the most of digitalisation, advises companies on R&D activities. In the course of their work, "we discovered a lack of predictive maintenance tools and saw a need for flexible, more user-friendly software, targeted to small and medium-sized enterprises," said Centre Director Audrius Jasenas.
They brought their idea to an EIT Manufacturing MatchMaking event in 2020 and found other partners who saw a similar need and wanted to help develop the idea: DGH, Grupo Antolin, Novameta and Tecnalia.
With the support of EIT Manufacturing, the partners were able to develop a solution and take it further than they expected. This is the first time InTechCentras has been involved in a startup, and it adds a new dimension to their work.
"We showed our members and other Lithuanian innovation ecosystem partners that we can come with ideas and turn it into a working commercial project. This is a real-use case we can point to said Centre Innovation expert Marius Kvedaravicius. On the basis of this success, the case of Future Ecosystems is being put forth for consideration as an official EIT Success Story.
How it works
The Future Ecosystems solution integrates predictive maintenance and online quality control to provide an information system platform with decision-support modules based on AI to optimise manufacturing functions.
The system is designed to anticipate breakdowns in manufacturing equipment and keeps track of spare parts, to make sure there are enough around. It alerts managers when maintenance is required and predicts the need for maintenance in the future. When maintenance is performed, the system monitors the work and requires quality checks, such as diagnostic reports and photos of completed repairs. It can also be used for production planning, outlining future needs. It gives a factory maintenance manager full support and an overview of any issues. Best of all, it fits all factory sizes.
"It's a modular system and that is a key difference from others in the market. If you don't need a module, you don't use it, so it's easy to adapt for any SME," said new startup director Rimantas Damanskis. The modularity and scalability of the platform keeps it affordable even for smaller companies.
Future growth plans involve EIT Manufacturing
Rimantas Damanskis said they have seen a need for this digitalisation in Lithuania, and visits with potential clients show a broad potential demand in larger European markets, like Germany. For now, they are seeking grants and investors, and already finding clients, a development stage that is in discussion for potential support from EIT Manufacturing's Business Creation team.
Another main goal is to connect the solution for machine maintanenance with real Overall Equipment Effectiveness (OEE data), and make more preventive maintenance options using AI modules.
As one of the project members explains, EIT Manufacturing support has been essential throughout the process: "We had a really great experience with EIT Manufacturing. We received great support from Co-Location North team and the EIT Manufacturing partners, including new network and business opportunities," Marius Kvedaravičius said.