The BoostUp! Bridge Grand Final was held in mid-October as part of WMF's World Manufacturing Week. Four corporates, each with its own corporate challenge, found their winning solutions from our startup ecosystem.
BoostUp! Bridge was the third edition of EIT Manufacturing's BoostUp! competition series, which began in 2020.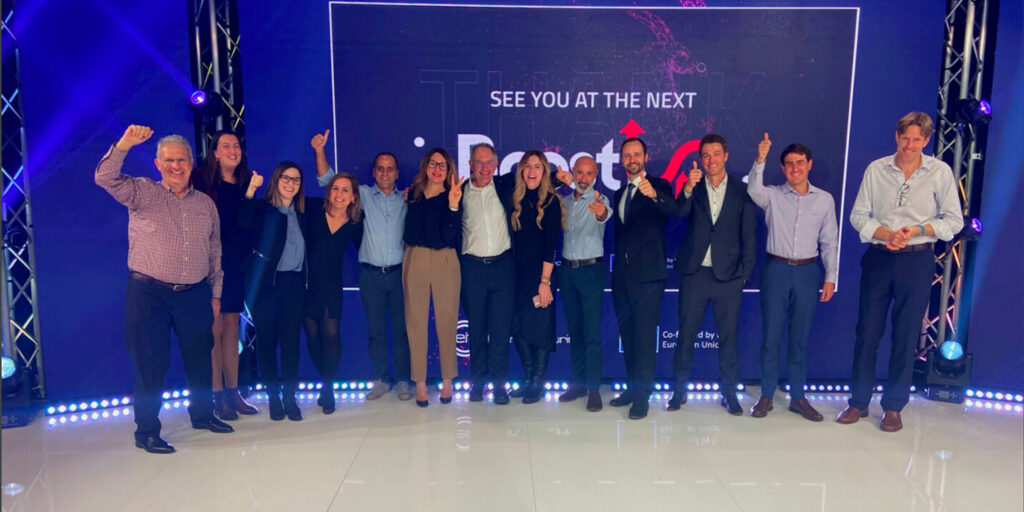 The idea for BoostUp! Bridge was inspired when EIT Manufacturing's Business Creation team spotted a gap between startups looking for new markets to deploy their solutions and corporate actors unable to find the technologies they needed to address their industrial challenges. BoostUp! Bridge was setup to build "bridges" between these two key stakeholders.
During this year's BoostUp! Bridge competition, EIT Manufacturing collaborated with four corporate partners (Whirlpool EMEA, voestalpine GmbH, KUKA, and EROSKI) to offer startups the chance to solve real-world challenges using their technology solution. Each corporate challenge was designed to be scalable within the organization, but also applicable to other verticals – providing significant growth potential for the right startup solution.

Two finalists per challenge pitched at the BoostUp! Bridge Grand Final in October 2021, and four winners were ultimately chosen. A full overview of the challenges and winners is below:
During 2022, the winning startups will implement their solution with the respective corporate partners. Each will receive a €50.000 cash prize to put towards their project and a package of tailored support services from the Business Creation team.
Throwback to BoostUp! BRIDGE 2021 Grand Final
View and Download pictures!
BoostUp! BRIDGE 2021 Journey
Testimonials
"BoostUp! Bridge literally builds a bridge between the amazing startup ecosystem and corporates in Europe. With the clear target to match the right partners to collaboratively solve business challenges and learn from each other."

Philipp Horner, Head of Business Optimization & Circular Economy, voestalpine High Performance Metals GmbH
"BoostUp! Bridge has been a unique opportunity to have a deep dive on innovation challenges of manufacturing companies and to analyze the success drivers of collaborative models with startups."

Lucia Chierchia, Managing Partner, Gellify
" …BoostUp! Bridge has fit perfectly with our open innovation strategy….Thanks to the programme, we will collaborate with a startup that will help us build an A.I. driven model to analyze and optimize the shelf life distribution accross the value chain of the products we manage."

Unai Sardón, Innovation Coordinator, EROSKI
"We are very happy to have won this challenge, and I see a large scaling potential in this opportunity together with KUKA."

Michael Suppa, CEO and Co-Founder, Roboception GmbH