The role of start-ups for the manufacturing industry
Start-ups are agile, dynamic, tech-focused – and very different from large corporate organizations or small and medium-sized businesses. A panel of manufacturing experts agreed wholeheartedly start-ups are crucial in moving manufacturing forward. They met in an Advanced Manufacturing Alliance webinar hosted by European Technology Chamber (EUTECH) 8 March 2022.
Staying competitive was one of the key aspects in manufacturing, stated Jörg Bartel, Technical Advocate at EUTECH in his opening remarks. He perceives start-ups as core accelerators which have the power to transform the manufacturing industry as they employ the most recent research in their technologies.
When do start-ups come in?
From Jameel Istaitih's experience not only from his current role as Vice President Industry 4.0 with Razor Labs, companies concentrated on their main business. They were very good at innovating in their own realm, when targeting their customers. But for other sectors, they needed others to innovate, and this was where start-ups came in.
Dr Daniele Marini, Senior Supply Chain Strategist with National Manufacturing Institute Scotland, sees a paradigm shift in manufacturing companies, moving away from patent-related innovation towards digital transformation of entire organisations. Start-ups supported this transformation, especially moving SMEs to Industry 4.0 and 5.0.
Senior Business Creation Manager of EIT Manufacturing, Dr Wolfgang Kniejski, clearly sees the benefit of working with start-ups and scale-ups and pointed out that installing new technologies in organisations was not enough. New skills were needed with every new technology. Start-ups needed to develop their businesses and to adopt their business models to be able to access markets and finance once they achieved a market-ready solution.
He pointed to the EIT Knowledge Triangle, a threefold foundation for the support EIT Manufacturing provides to their community which integrates innovation and business creation support with educational efforts.
Use your ecosystems!
The panel agreed that start-ups should work with local networks to develop their reach. Dr Kniejski emphasised that the pan-European reach was immensely important for young companies to broaden their view and diversify their offers.
Nampuraja Enose, Principal of the Industry 4.0 Centre of Excellence, Advanced Engineering Group at Infosys, added that working with large corporations was beneficial for start-ups. While large corporations benefitted from the speed, agility and diversity of ideas start-ups brought, start-ups could learn to tailor their solutions to the customer context. He sees collaboration as crucial for successful projects, as both sides exchange expertise and learn how to better leverage technologies. The financing that large corporations could provide as well as the global pool of engineering talent would be interesting to start-ups and help them build their product and enhance the existing solution.
Challenges for start-ups and collaborators
Working with start-ups also holds some challenges, the panellists agreed. Start-ups could be frustrated by the slower speed corporations moved at while corporations could not move at the same speed as the start-ups. The different parties came from different company-cultural backgrounds, Istaitih found, and often spoke different languages: While the start-ups, as Dr Marini put it, were in love with their technology, companies did not want solutions looking for problems.
In Istaitih's experience, startups were lacking in respect to the product market fit. They needed to leave the lab scale to enter the market scale. By interacting with companies, they could combine their technological expertise with domain expertise which would enable them to create a solution from their technology. Istaitih's postulation that start-ups needed a clear definition of the problem to work from had the panellists nodding in agreement.
Fostering success
Dr Kniejski mentioned the Boost Up! Bridge competition which starts from the definition of the challenge corporations have. Four large companies disclosed Industry 4.0 challenges and were presented more than a hundred possible solutions. Also assessed by an international jury, candidates were selected for proof-of-concept implementations, and then provided with funding.
Once a company agrees to work with a start-up, the project has a few prerequisites to be successful, elaborated Istaitih. They needed a single point of contact to be able to navigate the organisation, budget to cover their cost and resources on the organisation's side, whether that were people to work with, availability of the machines or time to implement their solutions.
Barriers to working with start-ups
Working with start-ups can hold barriers especially for small and medium-sized companies. They often did not have the same resources as larger companies, and also lacked awareness of how trending technologies could be implemented, said Dr Kniejski. In demystification events, SMEs learned about use cases to stimulate their thoughts on how technologies could be applied in their organisations. Specific matchmaking events brought start-ups and SMEs together to discuss their specific cases.
The webinar was rounded off with a virtual handout of tree certificates as a thank you to the panellists in the framework of the EUTECH Climate Action Partnership.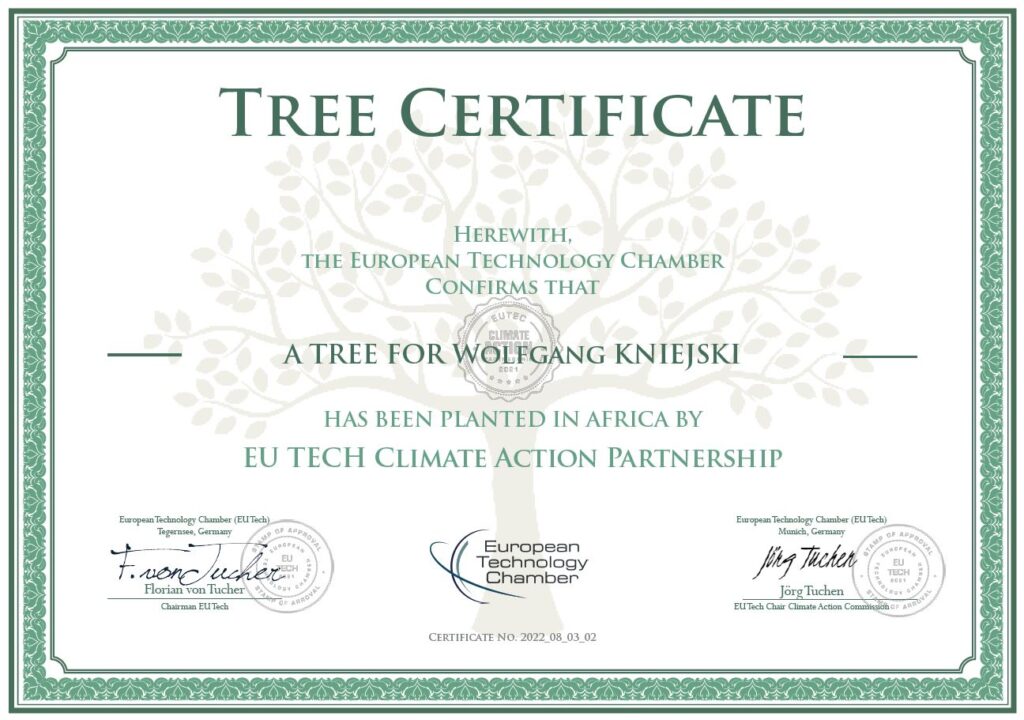 About the webinar
The Advanced Manufacturing Alliance webinar series is hosted by European Technology Chamber (EUTECH), a registered NGO on a mission to enable European businesses to use technology for the benefit of Europe and humanity, which was introduced to the audience by Maria Alejandra Pulido, Environment Alliance Director of EUTECH. Federico Gonzalez de Aledo, Manufacturing Alliance Director of EUTECH led the panel discussion.