EIT Manufacturing amplifies its reach in North Europe with three new strategic partnerships in Sweden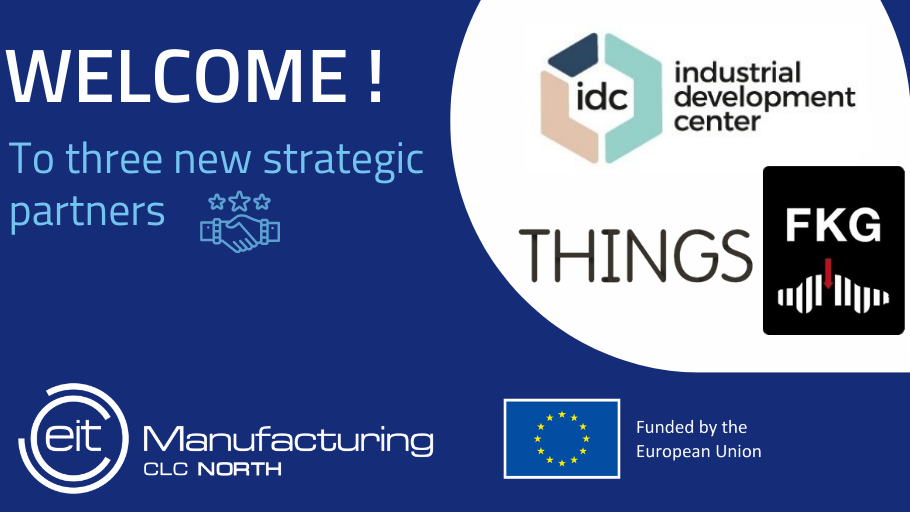 EIT Manufacturing's reach is expanding in northern Europe thanks to new strategic network partnerships with THINGS Stockholm, IDC West Sweden and FKG (The Scandinavian Automotive Supplier Association).

"Together with our new partners, we share a common commitment to increase the competitiveness, and innovation capacity of the manufacturing industry, and drive transformation," said Björn Fagerström Director of EIT Manufacturing CLC North.

"THINGS Stockholm, IDC West Sweden and FKG all have well-established networks of innovative small-and-medium-sized enterprises in the manufacturing sector that EIT Manufacturing can leverage. Meanwhile we hope to support these three new networks partners to amplify their reach within our pan-European networks and to access EIT Manufacturing's initiatives within Business-Creation, Education, and Innovation," said Björn Fagerström.
Partnerships already up and running with strong results.
Collaboration initiatives between EIT Manufacturing CLC North and its new network partners are already underway. For example, EIT Manufacturing held the  Regional Final of its BoostUp! business creation competition at the high-tech ASSAR – Industrial Innovation Arena, a platform that has been jointly initiated by IDC West Sweden AB and its partners.
Meanwhile, THINGS Stockholm helped organise and raise interest in IDEATE, a pre-matchmaking programme run by EIT Manufacturing CLC North, ahead of the EIT Manufacturing's Open Call 2022.
More about our new Network Partners
IDC West Sweden AB

IDC, short for Industrial Development Center, works to strengthen the competitiveness of the manufacturing industry in the Skaraborg region in western Sweden. It is a non-profit organisation owned by around 160 manufacturing industry companies in Skaraborg. IDC provides coaching, carries out analyses and other efforts to provide long-term learning – for a sustainable future industry.

Link to website: https://idcab.se/en/

THINGS Stockholm

THINGS is the #1 deep tech and innovation hub in Sweden focusing on industry, infrastructure, utilities and mobility. THINGS has around 100 members, split between deep-tech and established companies. A range of carefully selected international partners, located from Tokyo to Silicon Valley, enable THINGS to provide international services for its members including challenges, acceleration programs, co-pilots and match-making. THINGS also arrange open events including its eBazaar™, eXplore™ and Get-On-Top-Of™ series.

Link to website: https://thingstockholm.com/

FKG (The Scandinavian Automotive Supplier Association)

The Scandinavian Automotive Supplier Association is the trade association for the Scandinavian suppliers to the automotive industry. Today, the association has 350 member companies. For almost 30 years, FKG has worked actively with suppliers in the automotive industry as their spokesperson towards industry, politicians, authorities, and media. FKG also works to strengthen business relations and to provide opportunities for growth by raising competencies in the industry.

Link to website: https://fkg.se/about-fkg/?lang=en