EIT Manufacturing signs strategic partnership in France and Portugal
EIT Manufacturing continues growing in the West region with the signature of new partnership agreements. Three new network partners have joined the EIT Manufacturing community:  Polymeris and Alliance Industrie du Futur (AIF) in France; and Aeronautics, Space and Defence Cluster Portugal (AEDCP) in Portugal.
The agreements signed with these three organizations contributes towards the goal of bringing together a growing network of top industry partners, leading academic and research institutions, as well as innovative startups, scaleups and SMEs that improve manufacturing innovative processes at the European level.
Antoni Pijoan, Managing Director of EIT Manufacturing West has highlighted the relevance of these new strategic alliances in France and Portugal: "after two years of activities, EIT Manufacturing West has demonstrated its value not only in Spain where the main office is located, but in France and Portugal. Through the incorporation of these relevant actors we expect to growth our community in these very important countries".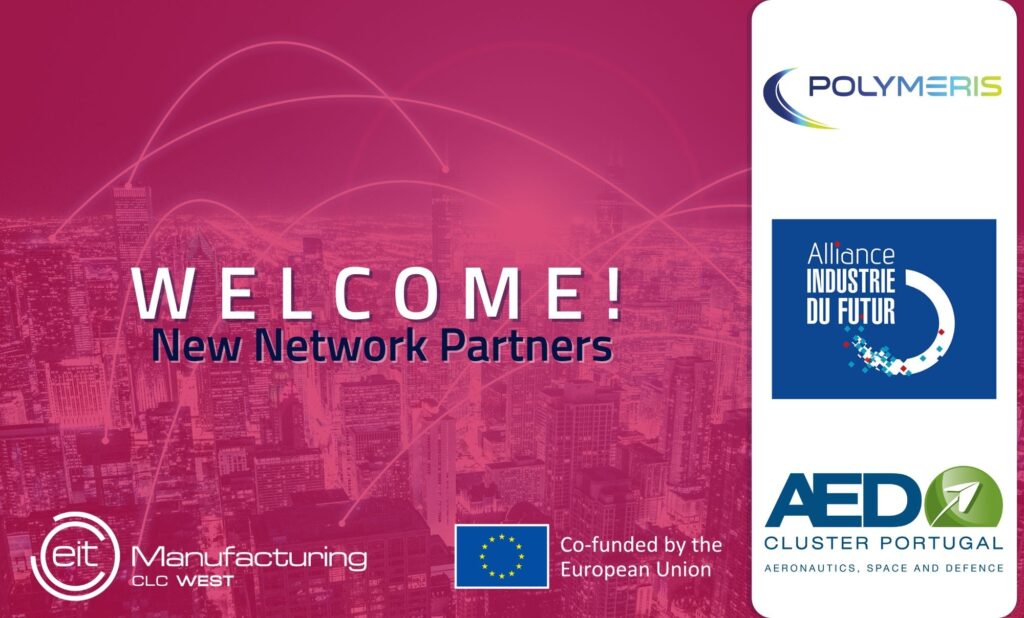 The geographical region covered by EIT Manufacturing West is one of the most heavily industrialized areas in Europe, but it is also characterized by a high degree of diversity. It is crucial to establish strategic partnerships in each country and enlarge the Network Partner community. These new two French Clusters and the Portuguese one join the extensive network of strategic collaborators that supports EIT Manufacturing to boost a sustainable and competitive manufacturing industry in the West region.
Polymeris, the French Competitiveness Cluster for Rubbers, Plastics and Composites, which gathers a network of 380 members, draws on 15 years of expertise and experience in supporting businesses, with in-depth knowledge of the techniques and markets of tomorrow. Polymeris is a benchmark in terms of innovation for the plastics, rubbers and composites sectors, both in France and internationally. Polymeris works in favor of a dynamic and innovative industry by relying on a network of public and private actors at regional, national and European levels, by offering services to help industry bring out new R&D projects, stimulate innovation and develop internationally.
Alliance Industry du Futur brings together professional organizations from industry and digital technology along with academic and technological partners, all rallying around a common ambition: to make France a leader in the world's industrial renewal and to propel the entire national industrial fabric right into the heart of the new industrial systems.
AED Cluster Portugal works in the aeronautics, space, and defense sectors. The strategic objectives of AEDCP are based on four fundamental blocks: Financing and Regulation; People and Competencies; Innovation and Value; Markets and Opportunities; areas with the mission of promoting a solid network and consolidating on Aeronautics, Space, and Defense global industries.