EIT Manufacturing Summit 2020 showcased how Europe will lead global manufacturing innovation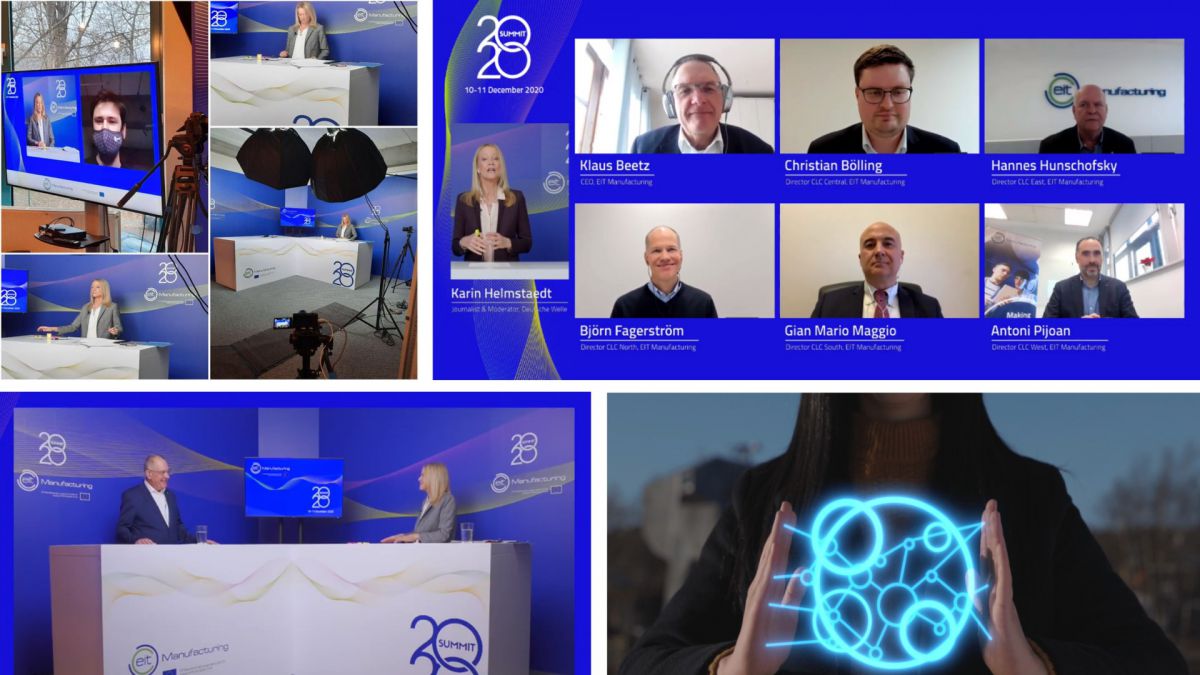 On 10th and 11th December, hundreds of policy makers, entrepreneurs, and industrial innovators from the European manufacturing industry got together to discuss how green and resilient manufacturing can support Europe's prosperity in the first edition of the EIT Manufacturing Summit. The winners of the first edition of the BoostUp! EIT Manufacturing's business creation competition were crowned at the Grand Final.
With more than 1,200 registered participants and over 70 featured projects, the first edition of EIT Manufacturing Summit showcased some of the latest research and future technologies of the European manufacturing that are paving the road for a resilient, greener, digital, and sustainable industrial sector in Europe.
The event was fully digital and included not only inspirational keynote speeches, but digital booths (easy-to-navigate, interactive and user-friendly) featuring projects and companies, lounges, networking opportunities (virtual exhibition/chat/people's tab). Participants were also invited to join for the dazzling BoostUp! Grand Final, EIT Manufacturing's business creation competition for entrepreneurs, start-ups, and SMEs with innovative solutions in the manufacturing industry on the Day 2 of the Summit.
DAY 1: Resilience, sustainability, and entrepreneurship in focus
The Summit kicked-off with an introductory session where Cecilia Warrol, Chair of EIT Manufacturing Supervisory Board and Klaus Beetz, EIT Manufacturing's CEO were interviewed by journalist and moderator Karin Helmstaedt of Deutsche Welle about EIT Manufacturing in its first year 2020. With Cecilia Warrol highlighting the key role of manufacturing plays for society, and the role innovation can play in the current post Covid-recovery.
The opening keynote speech from Adiari Vazquez, CEO & Founder of Braver Ventures, was a call to the European manufacturing industry about the vital importance for established players to invest and support start-ups to thrive amidst uncertain times. This was followed a session on EIT in Horizon Europe, with speakers Antoaneta Angelova-Krasteva, Director for Innovation, International Cooperation and Sport, DG for Education, Youth, Sport and Culture at the European Commission, and Martin Kern, Director of the European Institute for Innovation & Technology (EIT) highlighted the different ways the EU is nurturing innovation and entrepreneurship and role played by the Knowledge and Innovation Communities of the EIT.
A further panel discussion on green and resilient manufacturing for Europe's prosperity featured Daria Tataj, Founder and CEO, Tataj Innovation; Thomas Hahn, Chief Expert Software at Siemens AG Germany, Caroline Albert, Co-CEO and Co-Founder at nebumind, and Maurizio Gattiglio, Chairman Manufuture ETP. The discussion included lessons on how startups can succeed in collaboration with multinationals, why the green transition must also be a strategic goal for industry, and how resilience is linked to network intelligence.
Watch DAY 1 of the EIT SUMMIT here: https://www.youtube.com/watch?v=MAM_9kNaodE
DAY 2: Exciting news from Horizon Europe, and the BoostUp! Grand final
Starting out the day was a discussion of A green and resilient digital industry, with two EU Commission representatives: Lucilla Sioli, Director of Artificial Intelligence & Digital Industry, DG Connect of the European Commission and Peter Dröll, Director for Prosperity, Directorate General for Research and Innovation at the European Commission.
Lucilla Sioli discussed a range of key topics set to transform manufacturing including digital twins, why artificial intelligence will require green thinking and how 5G is making so-called edge computing possible. Peter Dröll outlined the need to move from Industry 4.0 to Industry 5.0 mindset. "It's about recognizing that our companies to lead the economy into a digital transition and a circular transition. That doesn't happen if we don't put workers at the center."
Furthermore, both Commission members were able to bring news of details new funding and targets from the EU for the Horizon Europe programme. Lucilla Sioli related details on the recovery and resilience facility, a 750 billion Euro facility that will be distributed to member states to implement activities. This, she said, includes 20% earmarked for digital spending and can be used for enhancing industry 4.0, digital innovation hubs and research carried out at a national level. While Peter Dröll related news of new funding and emission targets. "This morning we have an agreement on 55% reduction in greenhouse gas emissions. That is a major acceleration that requires substantial investment," said Dröll.
EIT Manufacturing operationalises its strategy along three integrated pillars, Education, Innovation and Business Creation and Day 2 also featured EIT Manufacturing's pillar directors – Godwill Bancole, Director Business Creation, Paola Fantini, Director Education, Jean-François Duroch, Director Innovation, Konstantinos Georgoulias, Director RIS & European Affairs, as well as Dimitris Mavrikios, EIT Manufacturing COO.
"A big, big thank you to the whole community!" said EIT Manufacturing's CEO, Klaus Beetz, at the end of the two-day virtual summit. "I was really impressed and by the innovations delivered this year by this community!"
Klaus Beetz was joined in the final session of the Sumnmit by EIT Manufacturing's Co-location Center (CLCs) Directors, who were each asked to comment on key challenges in their regions.
The challenges identified by Björn Fagerström (Director CLC North), Christian Bölling (Director CLC Central), Gian Mario Maggio (Director CLC South), Hannes Hunschofsky, (Director CLC East) and Antoni Pijoan (Director CLC West) include to engage more companies and ensure jointly executing competitive projects with high impact, resulting in a better society. To build and connect the ecosystem and to support new countries partners with different innovation backgrounds and culture.