EITM SOUTH and MADE Competence Center Webinar: Green Manufacturing & Metal 3D Printing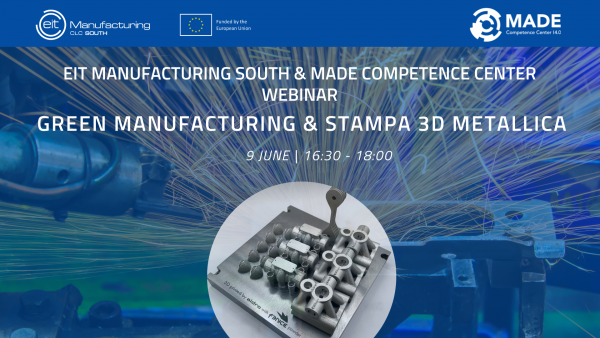 EIT Manufacturing and MADE Competence Center are proud to present three innovative solutions aimed at reducing the carbon footprint of powders used in metal 3D printing!
Join our webinar on June 9 to learn more about these  enabling technologies for implementation of Green Manufacturing in Metal 3D Printing. The webinar is  co-hosted by EIT Manufacturing and MADE Competence Center Industria 4.0.
What's new?
f3nice, has developed a process to give new life to waste metal while drastically reducing CO2 emissions. Aidro's competences in metal 3D printing are crucial for this revival process.
MaCh3D's mechanical test solution, and the non-destructing testing proposed by MADE also demonstrate that the quality and performance of products printed with f3nice's "green powders" is fully equivalent to products made with new powders.
Decarbonization at its best!
Register for the event here: (Tech Pills: Green Manufacturing & Metal 3D Printing Biglietti, Mer, 09 giu 2021 alle 16:30 | Eventbrite)