Denise Pezzuoli, winner of the 2nd place at the 2022 RIS LEADERS competition, impressed the jury with her presentation of innovative lubricant monitoring for predictive maintenance.
As a passionate physicist who specialised in nanotechnology, Denise has worked on various innovative topics before starting her own company SanChip. She is proud to use her extensive experience to bring innovation to the manufacturing sector and make an impact. In this interview, she shared more about her background, work life, and motivation to innovate the manufacturing sector. 
What inspired you to go into entrepreneurship and work on SanChip? 
Since I was a child, I've always had a passion for science and technology. I have a bachelor's degree and a master's degree in Physics, and later, I also obtained a PhD in Physics where I specialised in nanotechnology with a focus on micro and nanofluidics. 
I worked in various areas ranging from biomedical to environmental and industrial topics: from the study of antigen-antibody interaction for earlier diagnosis through the detection of micro and nano plastics in marine environments up to lab-on-chip nanofluidic platforms. 
Finally, my growing passion for technology and innovation prevailed and together with my colleagues, we founded SanChip to make predictive maintenance smarter through the development of IIoT devices based on lab-on-chip technology for real-time analysis of working fluids.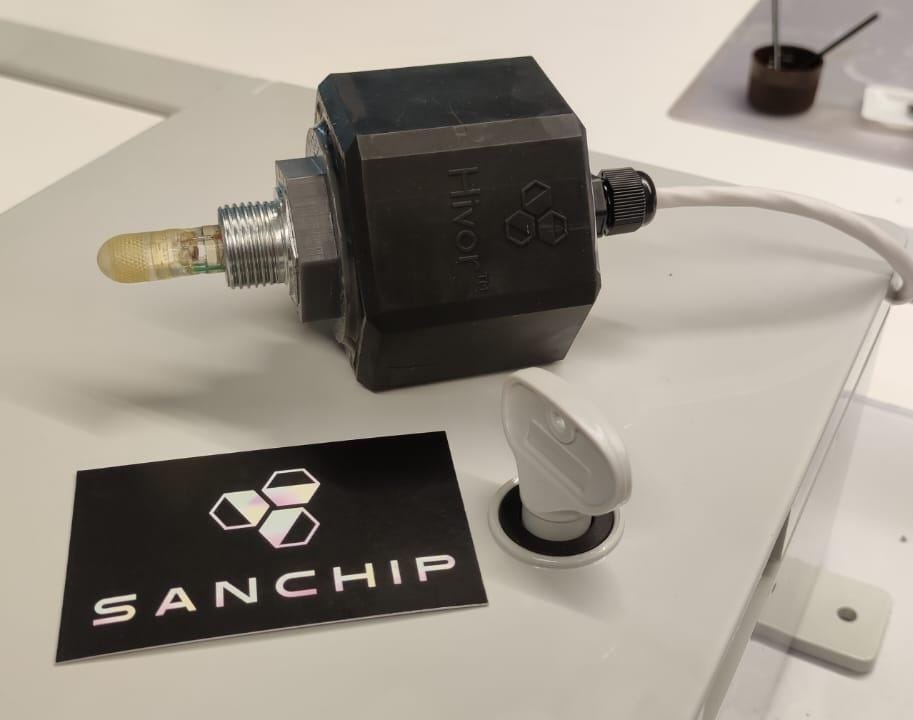 Why did you choose manufacturing as a field of activity? 
After years in academia where basic research is essential for scientific progress, I felt the need to explore new areas where I could contribute to a real market need, or rather, a real emerging need. I find everything about manufacturing processes and how to make them smarter and more sustainable quite fascinating. That's why I decided to use my know-how and experience in nanotechnology to bring an improvement in this sector and embark on this new adventure. 
How did you come up with the idea for SanChip? 
The development of these new products derives from a market need. Nowadays, machinery owners who want to get a complete picture of their machines rely on periodic oil sampling and analysis in specialised laboratories. These are offline analyses that require a long lead time before getting results and are carried out very few times a year, so they are extremely inefficient. 
How will your idea bring innovation to the industry? 
There are many benefits to our invention. Having a device that monitors lubricating oil in real time without operators would minimise repair costs and downtime due to unexpected breakdowns. Also, in terms of sustainability, it would make it possible to reduce the waste of lubricating oil by replacing it only when strictly necessary and making full use of its life cycle. This means a lower environmental impact for the machinery and a greater increase in the reliability and availability of the assets. 
You are quite passionate about your work. What do you love most about your job? 
The most exciting aspect of my current position is being able to contribute to bringing innovation in the manufacturing, energy, and transport sectors. Also, having your own laboratory available to carry out the research and development of new products and technologies together with your team is certainly exciting. Learning day after day how to run a company both from an administrative and an entrepreneurial point of view is something that fascinates me and makes me feel proud of myself.  

You have taken part in the RIS LEADERS competition dedicated to women innovators in manufacturing. Can you share some advice with women who want to work in manufacturing? 
If you are passionate about manufacturing and it makes you happy, don't stop at appearances. The manufacturing sector needs to be innovated, especially with women's contribution. All barriers and prejudices can be broken down with the right skills, the desire to do more, and the passion for what you are doing. I hope I can be an example for all the other women who want to revolutionise this sector.

Denise Pezzuoli, Founder, SanChip
Apply now for LEADERS 2023!
Are you a female innovator? Do you have a solution that addresses manufacturing-related challenges? Then, take a look at the LEADERS 2023 Call and apply now! You can submit your application until 18 July 2023.
All information about the RIS LEADERS Call 2023
About the LEADERS competition
In November 2022, the "LEADERS – Women Innovators in Manufacturing" prize was awarded by EIT Manufacturing as part of the Regional Innovation Scheme (RIS) for the second time. Thereby, EIT Manufacturing wants to draw attention to women innovators and women in the manufacturing industry, as women are still underrepresented in this sector.
For the final pitch, a jury selected six candidates, whose projects play a leading role in developing solutions that address manufacturing-related challenges with strong financial, environmental, or societal impact.
What is the EIT Regional Innovation Scheme (RIS)?
More information about the EIT Regional Innovation Scheme (RIS)
Get to know another finalist of LEADERS 2022!
Valeria Chiono