Boosting Moonshot community start-ups
The start-ups T_NEUTRAL, H2GO Power and Ucaneo have presented their disruptive climate innovations at Green Accelerator Davos 2023. The companies are part of the Moonshot community, an EIT Manufacturing community dedicated to finding new ways of tackling climate change.  
The audience at Green Accelerator Davos 2023 consists of companies, forward–thinking executives, entrepreneurs, investors, and start–ups working on solutions to climate change. The collaboration of EIT Manufacturing and Green Accelerator Davos, brought the three young companies to the Green Accelerator with the goal of boosting their success and building out their solutions.   
Towards the circular transformation of the textile industry.
T_NEUTRAL is an independent global organisation that works to eliminate textile waste. They have developed a pioneer methodology for textile producers to measure, reduce and offset the amount of textile outputted from their activity: the Textile Footprint. With this, textile producers can calculate and trace their textile output as well as their textile waste mitigation practices. 
Their goal is to develop effective solutions to eliminate textile leakage, achieve 100% traceability of textiles throughout the value chain, and accelerate the adoption of circular practices based on transparent and actionable data. 
We are very grateful to have the opportunity to attend Green Accelerator during Davos week along with other changemakers from the Moonshot community. We are honoured to have been chosen for this exclusive event that connects with our work and purpose as a company and that we hope will help us to continue driving our goal of a totally textile waste-free fashion industry. Initiatives like Moonshot programme and Green Accelerator, which support entrepreneurs and green-startups with a purpose like T_NEUTRAL looking to do things differently for a better future, are an essential part of this change. Projects like theirs help turn our ideas into action.

Mariana and Carlota Gramunt, co-founders of T_NEUTRAL

Zero-emission solid-state hydrogen storage and hydrogen AI solutions.
H2GO Power is a pioneering clean technology company that creates software and hardware technologies to drive the transition to a more sustainable planet. They have developed and delivered multiple world-firsts' in hydrogen energy storage technology for zero-emission, safe and reliable power supply, with a range of commercial applications. 
We are delighted to be here participating in a critical conversation like energy security and transition to lower emissions economies. Since its founding, H2GO Power has always been at the forefront of creating state-of-the-art technologies and introduce them to industries and markets where decarbonisation is key to sustainable economical growth. Hydrogen is a central player that will enable transitioning to net-zero and without it we won't be able to achieve the decarbonisation targets for a habitable planet. We take a system approach to build, integrate, measure, and monitor hydrogen technologies with AI that optimises for reducing emissions and increasing profitability from assets.

Luke Sperrin, CTO and co-founder of H2GO Power

Reversing climate change with synthetic biology.
Ucaneo is another start-up with a big vision, they seek to capture 500 million tonnes of global CO2 emissions from the air by 2035 through biotechnology. This is roughly the same weight as all humans on earth combined. Its innovative solution aims to reverse climate change with the power of biology.  
To meet the climate targets committed to in the Paris Agreement, reducing CO2 emissions is not enough – the world actively must capture billions of tonnes of CO2 from our atmosphere. To achieve that, Ucaneo has developed the world's first cell-free Direct Air Capture technology leveraging a biocatalytic membrane to capture CO2 from the air. 
We are honored to present Ucaneo in Davos also representing the EIT Manufacturing's Moonshot Community. Biology has already found a solution to remove CO2 from the air over millions of years of evolution – we harness this solution through technology to provide carbon negative CO2 feedstock for long term storage or utilization. Initiatives like the Green Accelerator and the Moonshot community help us to spread the word and show the world how we do it.

Florian Tiller, co-founder and CEO of the company
Transforming manufacturing into a more sustainable, regenerative, and green system.
EIT Manufacturing collaborates, for the second consecutive year, with Green Accelerator Davos. This participation comes within the framework of the Moonshot programme, an EIT Manufacturing initiative to foster environmental sustainability in the industrial sector through disruptive innovation. The Moonshot programme aims to create a space, a community, in which disruptive innovation, manufacturing and environmental sustainability come together to transform manufacturing into a more sustainable, regenerative, and green system. At the heart of this community are the changemakers, collaborative individuals who pioneer radical solutions to change manufacturing for the greener.
Through the Moonshot initiative, we are creating a community of entrepreneurs with disruptive ideas, and we are connecting them to the larger European manufacturing community. This is a way to help them validate their ideas on real manufacturing use cases, and to expose the manufacturing industry to new ideas and approaches to sustainability, through technology but also through innovative ways of thinking and innovating. We are very proud to have three start-ups presenting at Green Accelerator Davos, as a further activity to support this new community!

Xavier Baillard, Innovation Director at EIT Manufacturing
Green Accelerator Davos
This event aims to showcase climate solutions, cultivate connectivity and cooperation to advance climate action, through the United Nations Sustainable Development Goals (UN SDGs) and the European Green Deal, and support the transition to a green and regenerative economy. 
It is estimated that there will be 10 000 Green Unicorns in the coming decade, it is so important to jointly give all the climate startups any support that might benefit them and help us to tackle the climate crisis together and to cooperate whenever we can. It is such an honor to partner with the EIT Moonshot initiative on the Green Accelerator.

Zdenka E. Rezacova, founder and CEO of Green Accelerator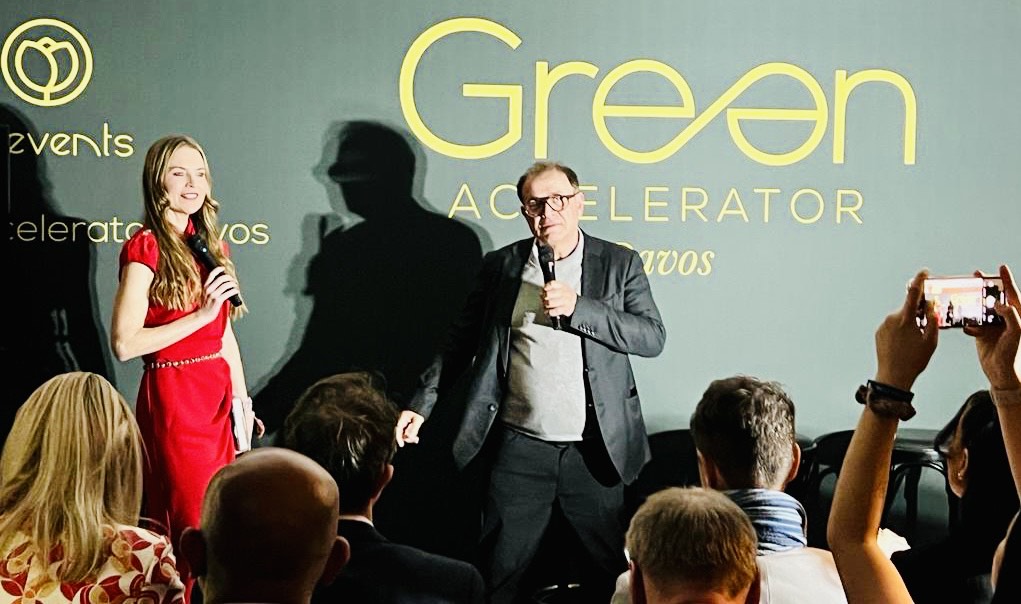 Davos experience