RoboNuggets : Learning Nuggets for Robots and Physical Assistance in Manufacturing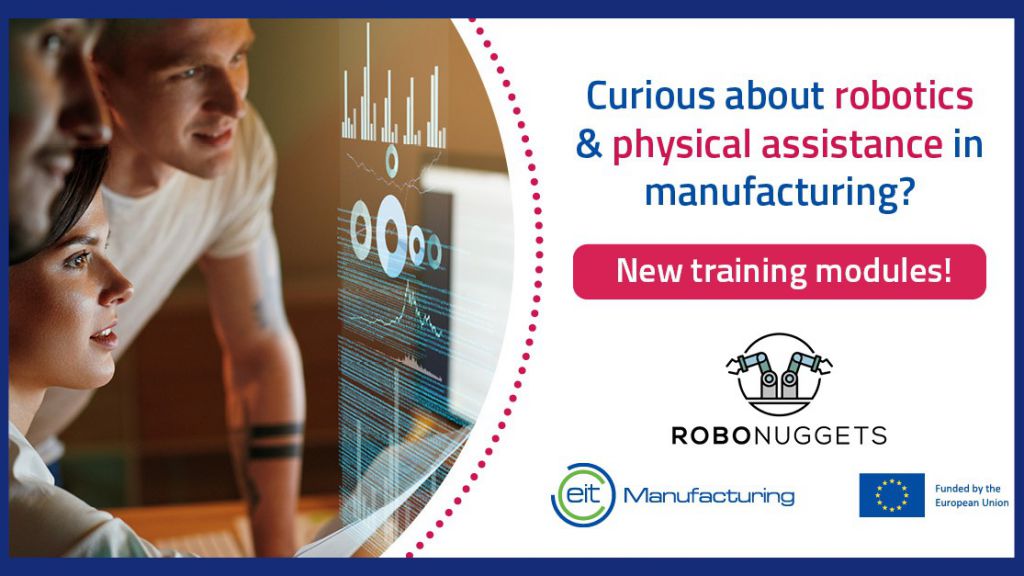 RoboNuggets, one of EIT Manufacturing's 2020 activities, aims at upskilling the manufacturing workforce for the future. Digitalisation and emerging technologies such as robotics and physical assistance systems demand entirely new skills but are now accessible to anyone thanks to this project.
What is it?
The RoboNuggets project was created in 2020 as a means to provide innovative training opportunities in the form of digital learning content, which is interactive, concise and modular. The content has been created in collaboration with partners from different perspectives covering the industry, research, and pedagogy: Siemens, Festo Didactic, TU Wien and the University of Tartu.
During the year, more than 250 people already benefited from the training modules.
How does it work?
The RoboNuggets' learning content is focused on industrial and collaborative robotics and physical assistance systems for smart manufacturing.
The sessions include everything from the basics to developing advanced programming skills and application-oriented knowledge.
Thanks to the modular approach, each learner's goal can be reached via tailored learning paths. RoboNuggets aims at teaching operations and shopfloor staff to understand and interact with collaborative robots in order to develop new solutions and applications. The training modules also provide safe and efficient interaction with robots.
How can we benefit from the nuggets?
The RoboNuggets project will continue in 2021 and be integrated into the upcoming EIT Manufacturing Learning Platform (to be launched during 2021). All learning nuggets developed within the education pillar will be available for free with open access through this platform. For more info, you can also contact the Project Leader, Steffen Nixdorf, project lead: steffen.nixdorf@tuwien.ac.at
Read more about the project in this factsheet