Empowering tomorrow's entrepreneurs
Entrepreneurship does not come natural to everybody. Yet, the skillset can be learned. Teaching institutions play an important role in attracting young people to innovation and entrepreneurship.
Strascheg Center for Entrepreneurship (SCE) does a great job in conveying opportunities to students. EIT Manufacturing and SCE have just teamed up and will work together. Warm welcome to our new network partner SCE!
Entrepreneurship can be learned like playing the piano.

Prof. Dr. h.c. Falk F. Strascheg, Venture Capitalist and founder of The Strascheg Center for Entrepreneurship
The Strascheg Center for Entrepreneurship is integrated into the Hochschule München University of Applied Sciences (HM) as an affiliated institute. They promote innovation and entrepreneurship through interactive educational offers, start-up support and networking activities. The institute's aim is to motivate and empower individuals to think and act entrepreneurially, to create start-ups and to accompany them on their way to market, thus contributing to a future worth living.
In addition to the resources, students and start-up teams of HM, SCE draws on a large regional and international network and the resulting alliance of international universities to implement its activities. "We are delighted to be part of SCEs network," says Dr. Wolfgang Kniejski, Senior Business Creation Manager with EIT Manufacturing. "This collaboration is a win-win for the communities of both parties".
In the framework of the collaboration agreement, EIT Manufacturing will provide coaching and mentoring services, while SCE will scout talents and start-ups in manufacturing. Jointly they support start-up development with their resources and bringing the innovation to the market. There will also be jointly organised events and programmes as well as workshops for small and medium sized companies about scouting start-ups and promoting innovation.
The network partnership of SCE and EIT Manufacturing builds on an existing tie through the Start for Future Programme first initiated in 2021. "SCE and EIT Manufacturing through Start for Future mobilize their resources across networks," says Pavlina Vujović, who takes care of internationalisation in SCE.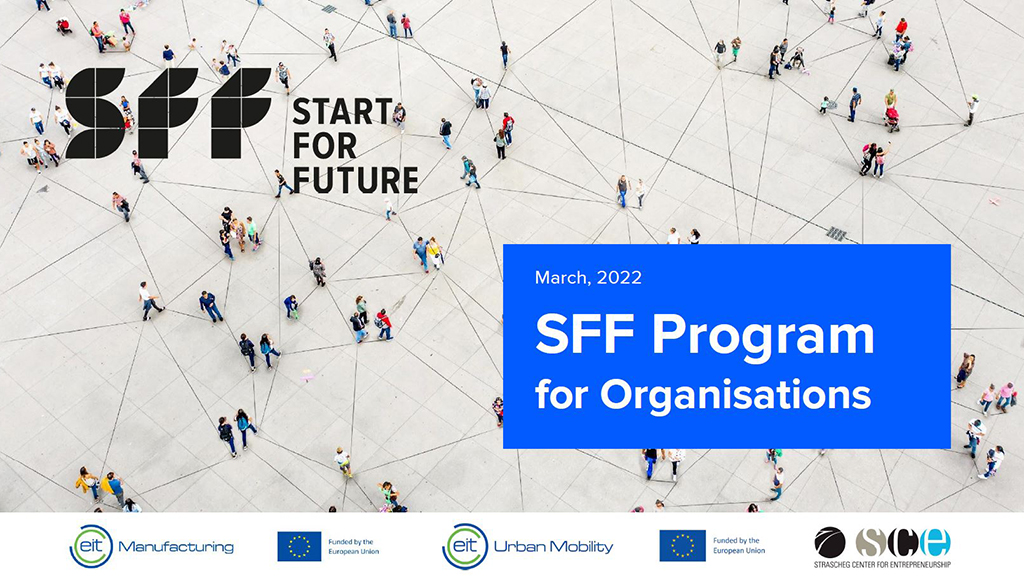 Whether entrepreneurial skills are needed for our future is no longer a question. Start for Future is a testimony to it, combining resources and knowledge of over 20 universities and incubators across Europe. Working with organizations such as EIT Manufacturing within SFF and effectively using synergies, makes it possible to foster entrepreneurial mindset, startup creation and co-creation in Europe, in a systemic way.

Klaus Sailer, CEO Strascheg Center for Entrepreneurship
Contact
Prof. Dr. Klaus Sailer
Executive Director of Strascheg Center for Entrepreneurship (SCE)
klaus.sailer@sce.de
Pavlina Vujović
Head of Internationalisation Strascheg Center for Entrepreneurship (SCE)
pavlina.vujovic@sce.de