The future of manufacturing showcased in BoostUP! Regional Final with innovators from across North Europe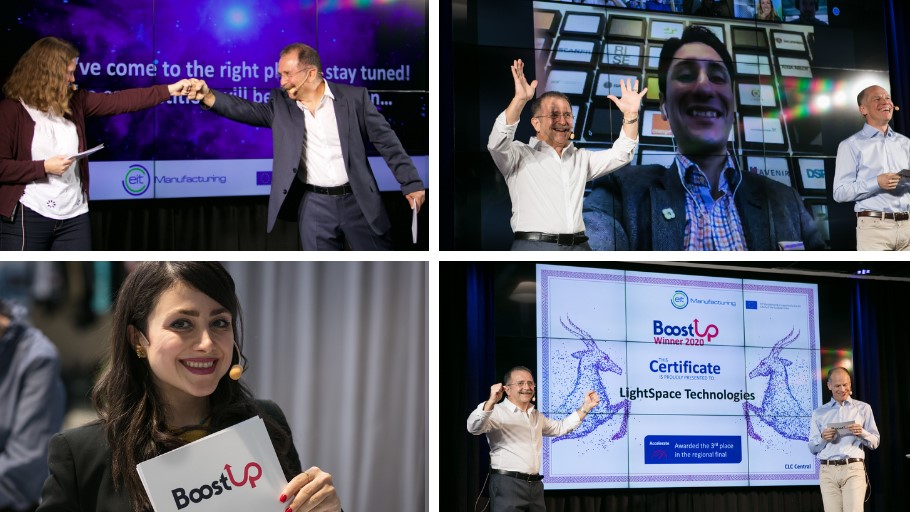 Biodegrable plant-based plastics, 3D printing high-velocity impact materials with recycled material, software for turning robots into a hybrid additive manufacturing cells — these are just a few of the many exciting innovations that were presented during a two-day northern BoostUp! Regional finals, a competition held by EIT Manufacturing to support innovation in the European manufacturing sector.
On the 15th and 16th of October, the Regional Finals of BoostUp! were held at the Assar Industrial Innovation Arena in Skövde, Sweden. The two-day event featured 23 live pitches from innovators and competitors from across the Nordics and Baltics and the UK in three different categories: Create, Accelerate and Transform. The top entries in each category are nominated to the Grand Final of the BoostUp! competition which will be held in December 2020 and will feature competitors from across Europe.
Showcasing early-stage projects for greener and more resilient future
In the Create competition, early-stage entrepreneurs proposed innovative projects addressing green, waste-free manufacturing and the circular economy, or resilient manufacturing.
The first prize was shared between 3D TOUGH, a solution developed by Gaurav Das, Arjun Das and Sanjay Shah, which aims to make use of 3D printing to make high-velocity impact materials (HVIM) that protects people and equipment, through a method that can make use of up to 100% recycled material. As well as SoftDREAM that is developing a software which aims to make it possible and effortless to turn any robotic arm into a hybrid additive manufacturing (AM) cell.
The jury also selected two third place winners: Svala Technologies that has developed a patent-pending technology, through which potential customers get valuable insights about the behaviour of molecular structures, allowing for optimisation of properties, potential cost reductions as well as higher lab-trial success rates. The team behind the project is Rasmus Andersson, Fabian Årén, Patrik Johansson, Johannes Henriksson, Emil Krutmeijer, Sirikun Loetsakwiman. The other third place finalist was XCHANTO, a project by Christopher Gottlieb Klingaa and Abdul Rauf Khan, who have developed an innovative approach to X-ray CT data analysis, yielding a detailed and quantitative surface evaluation of components and channels. The innovation can be used to optimise component design, leading to better energy efficiency and productivity.
High level of innovation among startups and scaleups
For the Accelerate category, a competition for startups or scaleups ready to expand their ventures geographically or to new customer segments, the top prize went to the Swedish startup PlasticFri (https://plasticfri.com/), which uses renewable resources for making a plant-based, biodegradable material that looks and functions much like conventional plastic. Second place was awarded to Denmark's Kaffe Bueno (https://www.kaffebueno.com/), a startup that upcycles used coffee grounds from cafés, hotels, offices into active and functional ingredients for cosmetics and functional foods. While third place was shared between LightSpace Technologies (https://www.lightspace3d.com/), from Latvia, which has invented key enabling technologies for real-time multi-plane and holographic 3D image displays. As well as Viking Analytics (https://vikinganalytics.se/), from Sweden, a startup which seeks to empower experts in asset-heavy companies with analytics and AI to analyse, monitor and predict the operational performance of their assets and processes. Alongside the winners, four other competitors were nominated to the Grand final, this includes Wellibites (Sweden), Nordbo Robotics (Denmark), MedHydrogel (Latvia) and KIT-AR (UK).
Transformational projects from European manufacturing SMEs
In the Transform category, two companies were nominated to the BoostUp! Grand Final in December. This included Skandia Elevator  ( https://skandiaelevator.com/ ) from Sweden, which is an established producer of grain-handling equipment and accessories. Its transformation initiative is to develop automated, smart systems for grain handling. The other finalist was Neurisium ( https://www.neurisium.com/ ), from Estonia, which builds next-generation production management and automation platforms to manage production processes.
Final results of the BoostUP! Regional Final for Co-location North:
Create competition
1st place: 3D TOUGH (Finland) and SoftDREAM (Sweden)
3rd place: Svala Technologies (Sweden) and XCHANTO (Denmark)
Accelerate competition
1st place: PlasticFri (Sweden)
2nd place: Kaffe Bueno (Denmark)
3rd place: LightSpace Technologies (Latvia) & Viking Analytics (Sweden)
Alongside the winners, four other competitors were nominated to the Grand final:
Wellibites (Sweden)
Nordbo Robotics (Denmark)
MedHydrogel (Latvia)
KIT-AR (UK)
Transform competition
Nominated to the BoostUp! Grand Final:
Neurisium (Estonia)
Skandia Elevator (Sweden)
Read more about our winners here