D-Cube Immersive Solutions is pioneering AI-driven in-line quality assurance for aluminium extrusion
D-Cube is making strides in future-proof quality assurance: the Greek spin-off has made zero-defect manufacturing the cornerstone of its business. The company's flagship solution enables AI-driven in-line quality control during the aluminium extrusion process, guaranteeing early scrap identification and unnecessary downstream processing.
Machine vision enables early identification of surface defects
Most quality processing in aluminium processing is done off-line, leading to the need for secondary processing and ultimately aluminium waste. Aided by artificial intelligence, D-Cube offers a solution that can integrate your quality assurance in-line, allowing to reduce unnecessary downstream processing and costs. Furthermore, active learning allows for better and faster identification of deficits over time.
CYRUS, the company's flagship solution, consists of a hardware installation – the smart cage – and a software component. After the profile exits the extrusion press on the conveyor, it enters the CYRUS smart cage, which is installed just a few meters from the press. Here, mounted cameras capture the extruded profile and D-Cube's algorithms detect surface defects in less than 50 microseconds. In case of detected defects, the press operator immediately receives an alert with instructions to adapt press parameters.
Not all extrusion presses are created equal. D-Cube offers a customer-centric and fitted solution. Experts conduct an on-site feasibility study to determine if the prerequisites for the setup, including the needed space for the setup, are met. Additionally, they determine whether the required software infrastructure, such servers, are available and how to potentially integrate CYRUS in the production line.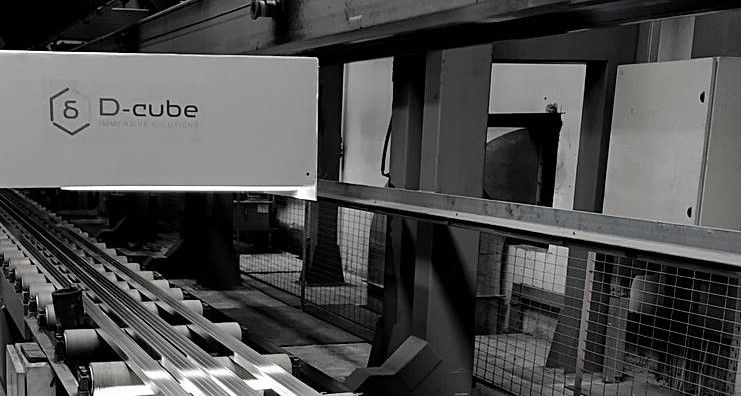 Customer-centric solutions lead to cost savings
The reduction of unnecessary downstream processing in secondary production can significantly reduce production, processing, and recycling costs. First customers such as Alumil have benefited from 4,2% scrap reduction and 12,5 € cost savings per ton and are able to position themselves as circular economy contributors. Furthermore, as an R&D-driven company, the company engages in specific sector collaborations. Other early partners include ETEM-Gestmap and Netherlands-based APT.
Big data analytics allow for yield optimisation
In addition, production managers are able to remotely monitor the process in near real-time. They have access to big data analytics, enabling yield optimisation. As a Microsoft partner, D-Cube can offer an attractive cloud solution and provides the necessary cloud interface and Software-as-a-Service (SaaS). Alternatively, companies for which privacy and security is of particular concern, can opt for an on-premise solution, keeping data isolated and on your servers, where they are also processed.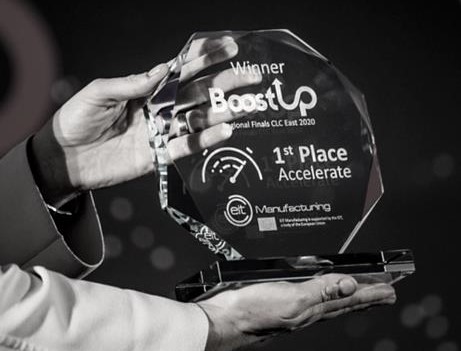 European recognition for Greek trailblazer
D-Cube is a trailblazer opening a new market with their science-backed solutions, which has not gone unnoticed by the European technology community. The Greek spin-off was awarded the first place in the Accelerate category during EIT Manufacturing's 2020 BoostUp! East competition, a pitching contest for innovative manufacturing companies in Central and Eastern Europe. D-Cube was able to further develop its technology with support from EIT Manufacturing.
Artificial intelligence makes a difference. Are you interested in D-Cube's solutions? Learn where to reach out in the company's snapshot.
D-Cube Immersive Solutions
Based near Thessaloniki, Greece
AI-driven in-line quality assurance during the aluminium extrusion process
Contact: Dimitris Katsikas, Co-founder & CEO
Reach out below
Interested in joining an EIT Manufacturing programme?