Aucobo and EIT Manufacturing collaborate


Aucobo has developed a solution which optimises shop floor processes and reaches machine operators directly – with messages sent to their smart watches. EIT Manufacturing will help them grow their business.
Moving manufacturing towards industry 4.0 often reveals data silos on the shop floor which impair processes and decrease efficiency. The problem is often that operators can only identify issue when they look at machines. This can increase downtime of machines, especially if there is no clarity who is available, close by or has the necessary skills to fix the issue at hand, and if coordination on the shopfloor is not easily possible.
Aucobo figured out that giving operators the right information at the right time, including to dos they can act on, will revolutionise the organisation and communication on the shop floor.
It's easy, really – we connect people and machines on the shop floor with smart collaboration software and smart wearables. Messages are sent to the operators' smart watches, so that they can take care of several machines without the pressure of having to be everywhere at the same time.

Michael Reutter, Co-Founder of aucobo
Ready in two weeks
It takes around two weeks to prepare and implement the digital software collaboration platform. After that, new processes can be implemented in minutes. The effect is measurable: Operators respond up to 80% faster, unplanned downtimes go down, the overall equipment effectiveness goes up. All this while employee productivity increases by up to 60% and operators feel less stressed.
"Our solution digitises everybody, manages workload according to skills and availability in real time and improves productivity," says Michael Reutter. "In addition to that, the data that are collected offer valuable insights into the entire production facility."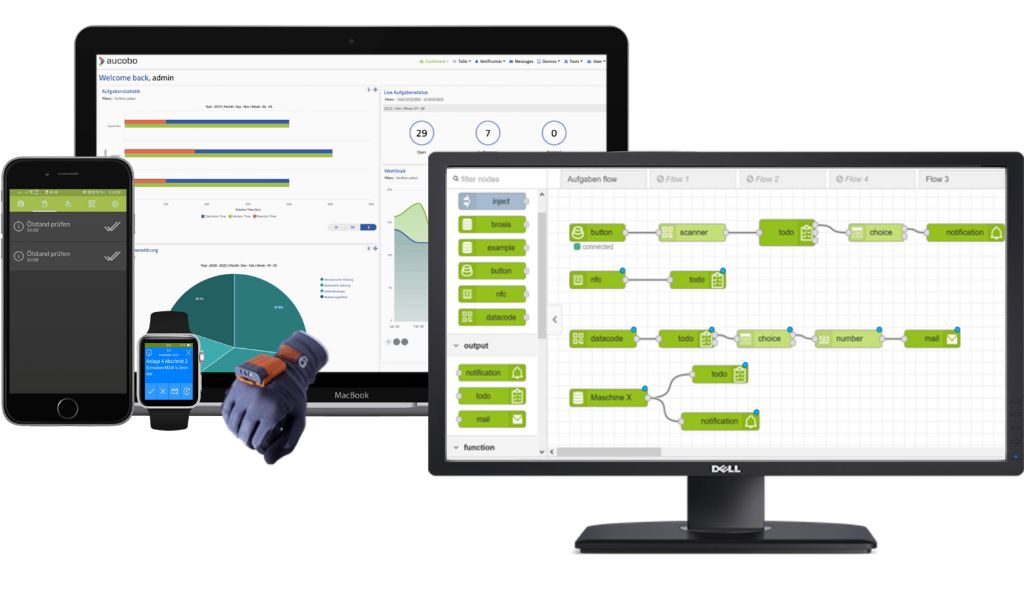 Wolfgang Kniejski, Senior Business Creation Manager from EIT Manufacturing Central, is convinced by the simplicity of the solution: "Operators only need to check their smart watches to know what needs their immediate attention. They always have the watch with them, so they cannot miss anything, they have their hands free and can organise themselves. That is really convenient – and great for the business."
Networking works
He got to know aucobo when they presented themselves at a demystification and matchmaking event about data generation and analysis in production processes in March 2022, which Peter Gräser from Innowerft and EIT Manufacturing Central organised. "aucobo presented themselves excellently and I saw great potential in a collaboration. They were simply missing in our portfolio and I'm delighted we won them over," smiles Wolfgang Kniejski.
Contact