Improving food manipulation & safety thanks to Human & Robot Collaboration mindset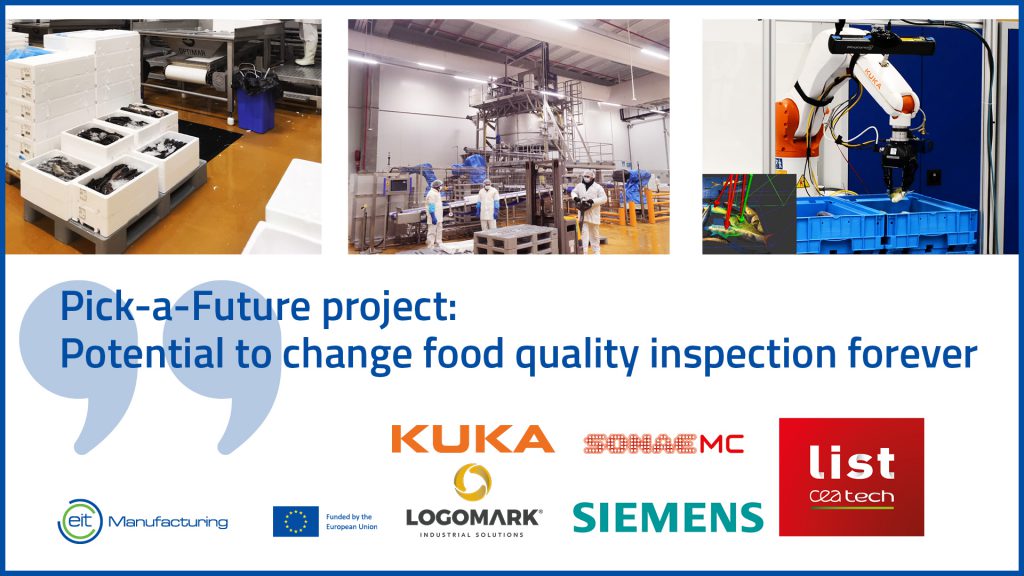 Innovative solution for quality control and food manipulation:
"Potential to change food quality inspection forever".
EIT Manufacturing's 'Pick-a-Future' project is developing a high-end technology solution to improve the quality control of fresh fish while its being manipulated, and ahead of distribution to retail chains. Today, fresh fish is sorted, inspected and weighed manually before being distributed. The aim of this project is to develop and deploy a unique next generation fresh fish picking system and spectral quality control based on the Human-Robot Collaboration mindset.
"The spectral quality control solution being developed for this project has the potential to change how we manage food quality inspection forever. Currently, food manufacturers are working with samples from batches, but with this technological approach the project aims at a reaching a 100% control of the quality and directly in the production line", says Nuno Gouveia, activity leader, at Sonae MC.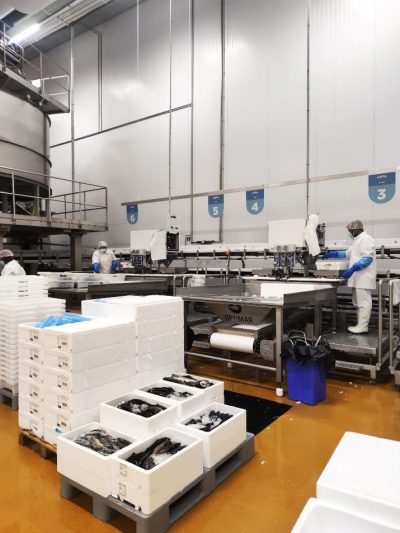 The project team are looking forward to testing the concept at warehouse level during the second half of 2021. He stresses that another benefit of the project is that it develops a solution for gentle handling of food, fresh fish in this case, thanks to a smooth human-robot collaboration approach.
There are several benefits with the solution:
Processes at the warehouse will be optimized, with humans and technological solutions working seamlessly together;
Consumer safety will be based on quality checks on 100% of the food (instead of samples);
Working conditions and safety for workers will be improved;
Productivity and yield is expected to increase thanks to the disruptive innovative culture, based on a Human Robot collaboration mindset.
Ground-breaking spectral quality control technology
EIT Manufacturing's Pick-a-Future project will not only provide a new way of manipulating the fish, but also offer a robust quality control system, which is traceable, checking 100% of the fish and with a continuous quality inspection.
Thus, the project answers to the different needs and standards set by the clients (retail shops). Depending on their location and size, different retails shops need different quantities and type of fish/food.
"As the fresh fish comes in different sizes, shapes, appearances and are easily deformed, the challenges for the technology and innovative solutions that will be developed through the PICK-A-FUTURE project are incredibly challenging, but we believe this project has potential and that the results can be extended to other sectors later on", Nuno Gouveia concludes.
The power of a pan-European consortium
The project has been made possible thanks to the powerful network provided by EIT Manufacturing, combining different skills and businesses. Five partners are collaborating to develop the solution: Sonae MC, CEA, KUKA, Siemens and Logomark.
After a first year very oriented around technology maturation, this year (2021), the team will be focusing on integrating the various technologies into a final, optimized solution at Sonae MC`s warehouse. The integrated solution results and findings will be shared with a wider audience, and market entry for the solution prepared. Furthermore, the team is also preparing to share the results beyond the pilots for the benefit of other European food players and sectors.
Read more: