Boosting supply chain resilience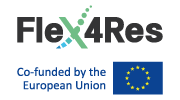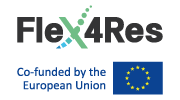 Flex4Res is an EU project about data spaces for flexible production lines. Its goal is to make manufacturing in Europe more resilient.
Manufacturing industries continuously face the challenge of delivering high-quality products under high production rates while minimizing non-value-adding activities. The recent COVID-19 pandemic is causing manufacturers to rethink their global supply chains and the flexibility of their production sites to get a resilient manufacturing.
The European research project Flex4Res aims to improve the resilience of supply chains. Therefore, it provides an open platform for secure and sovereign data exchange along the supply chain to support production networks' reconfiguration for resilient manufacturing value chains. Additional toolboxes for resilience assessment and reconfiguration planning enable stakeholders across the supply chain to manage different types of disruptions by reconfiguring supply chains and production lines quickly and efficiently.
EIT Manufacturing Central leads the communication activities and awareness creation as well as the exploitation and creation of a business plan.
Flex4Res project partners
Lead organisation: Laboratory for Manufacturing Systems & Automation, Greece
A1 Digital International GmbH, Austria
BEIA, Belgium
CONTACT Software GmbH, Germany
EIT Manufacturing Central gGmbH, Germany
GOIMEK S. Coop, Spain
Hans Berg GmbH & Co KG, Germany
Ideko S.Coop, Spain
Mondragón Corporación Cooperativa, Spain
Netcompany-Intrasoft, Luxemburg
Savvy Data Systems, Spain
Sidenor Viomichaniki Chalyva Anonymi Etairia, Greece
Soraluce S. Coop, Spain
Technische Universität Darmstadt, Germany
Technische Universität Wien, Austria
Universität Siegen, Germany
Voestalpine High Performance Metals Digital Solutions GmbH, Austria
Katharina Opitz
Communication Associate
Funded under
This project has received funding from the European Union's Horizon Europe research and innovation programme under grant agreement No 101091903.
Follow Flex4Res on LinkedIn
Participants
LEAD PARTNER
Laboratory for Manufacturing Systems and Automation, University of Patras (LMS)
More information