Manufacturing Days powered by EIT Manufacturing
Manufacturing Days powered by EIT Manufacturing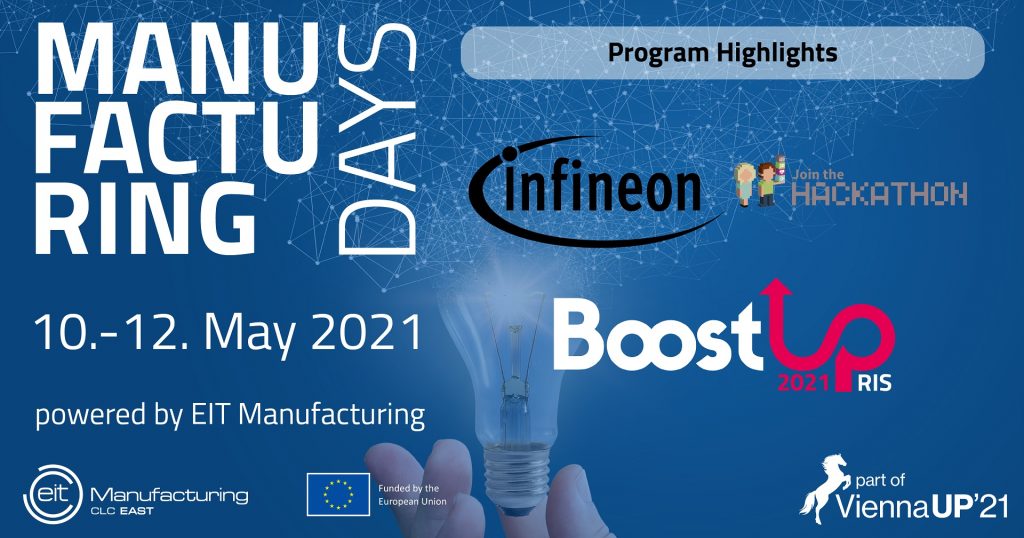 EIT Manufacturing CLC East is delighted to invite you to the
Manufacturing Days powered by EIT Manufacturing
from 10th to 12th May 2021
ViennaUP'21, which is the biggest decentral start-up festival in Europe, taking place from 27th April to 12th May 2021.
During the Manufacturing Days, we talk about manufacturing, innovation, and the latest technology. We bring together start-ups, key industrial players, investors, and experts in global manufacturing.
The Manufacturing Days powered by EIT Manufacturing are a forum for gathering the actors in the manufacturing industry all across Europe and beyond to get latest insights, talk and listen to experts, and learn about new opportunities.
We put together a diverse and international program for and with start-ups in the manufacturing industry – inspiring keynotes, a virtual hackathon with Infineon, informative workshops and discussions, the EIT Manufacturing BoostUp! RIS 2021 Competition, targeted 1:1 meetings and many more exciting items on our agenda promise knowledge gain and new business contacts.
Check out the agenda and register here for free
———————-
Your EIT Manufacturing East Team