Dr. Kousi discusses the Importance of AI in Industry
On October 11, 2023, the Digital Transformation Forum 2023 was held online in Greece, organized by Teamworks and the National Documentation Centre (EKT). The event brought together experts from industry, academia, and government to discuss the latest trends and developments in digital transformation.
Dr. Niki Kousi, Managing Director of EIT Manufacturing South East, participated in a panel discussion on digital transformation in companies. In her presentation, Dr. Kousi highlighted the importance of artificial intelligence (AI) in the industry, not only for production lines in factories but also in everyday life. She also noted how EIT Manufacturing, its calls and programs aim at including AI in innovation and business creation.
"AI is already transforming many industries, and its impact is only going to grow in the coming years," Dr. Kousi said.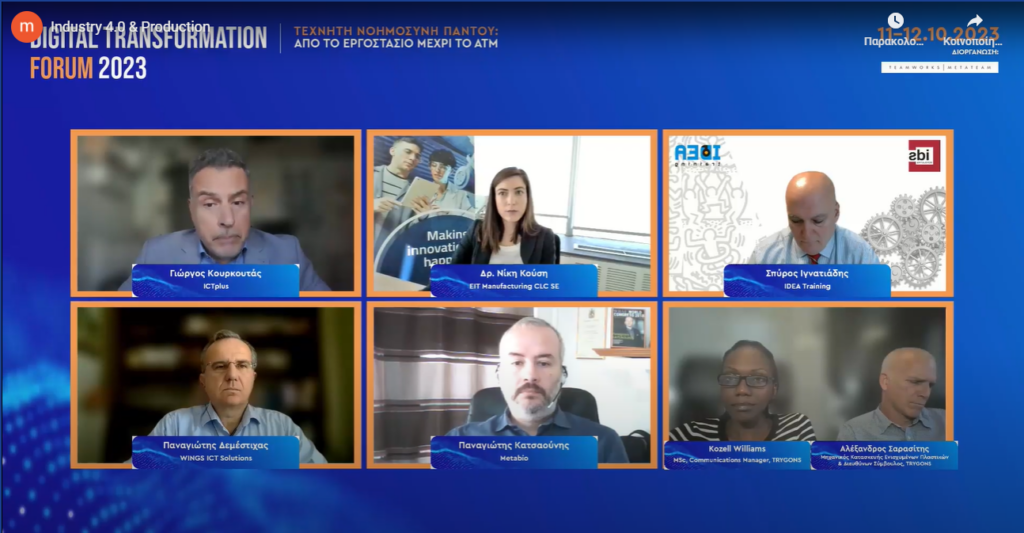 Dr. Kousi also discussed the challenges that companies face in adopting AI. One of the biggest challenges is the lack of skilled workers in AI and related fields. Another challenge is the need to change corporate cultures and mindsets to embrace new technologies.
Despite the challenges, Dr. Kousi is optimistic about the future of AI in industry. She believes that AI has the potential to make businesses more efficient, productive, and innovative. She also believes that AI can help companies to develop new products and services that meet the needs of their customers in new and better ways.
The Digital Transformation Forum 2023 was a successful event, with more than 100 people attending. The event provided a valuable platform for experts to share their knowledge and insights on digital transformation.