EIT Manufacturing has participated in the successful edition of Global Industrie 2022
EIT Manufacturing participated from 17 to 20 May at one of the largest industrial events in France held in Paris with more than 1.000 machines in operation, and 2.300 exhibitors. Global Industrie 2022 closed its fourth edition successfully and once again demonstrated its ability to bring together the whole industrial ecosystem: value chain, user markets, and industrial players in only one place.
"Global Industrie is now reaching the meeting point of three trends of the future: political announcements in support of the French economy, the willingness of companies to develop new projects, and the new practices in the exhibition field", said Sébastien Gillet, Director of Global Industrie.
Visitors had the opportunity to listen to industry professionals who shared their experiences, success stories, and the main changes and developments in the sector at the European level, such as the panel discussion "Future technological challenges of AI for Industry", where Adrian Bablock, Project Manager, X-KIC, participated and reflected about the AI in Manufacturing: "I enjoyed the fruitful discussion over democratizing AI and the use cases in machine learning we talked about, eagerly look forward to digging deeper at the next chance".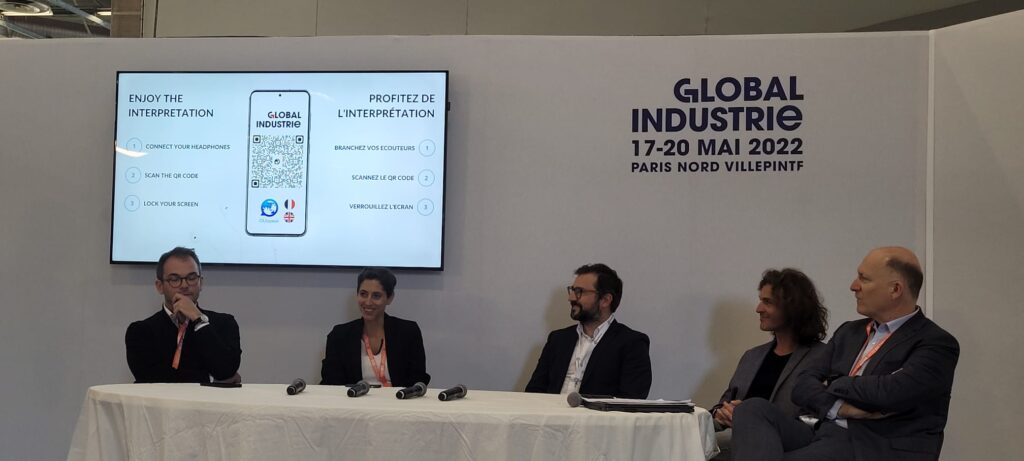 The round table was presented by Antoine Couret, Hub France IA, France. Participants (left to right): Paul-Guilhem Meunier, Responsible of Companies Relations and French-German Academy for Industry 4.0, Institut Mines-Télécom; Emmanuelle Abisset-Chavanne, Professor at ENSAM; Adrian Bablok, Project manager, EIT Manufacturing; Michel Lutz, Group CDO, Chief Data Officer and Digital Factory Head of Data, TotalEnergies; and, Renaud Vedel, National IA Coordinator, France.
On the other hand, Prenomics, and  Glartek, startups supported by EIT Manufacturing in the implementation of AI, shared their challenges in the round table called Driving adoption of AI by SMEs: success stories, obstacles, and challenge:
Roger Agustín, CEO of Prenomics commented "We've reached technological and data maturity point, where most corporates and SMEs have interesting business opportunities coming from data and advanced analytics technics. EIT Manufacturing is playing a key role in helping startups like us to connect with top-level industries. Closing the credibility gap and enabling the real development of AI projects that would be impossible otherwise".
On the other hand, "Introduction of digitization can be a challenge for SME as much of their work process remains manual and they don't always have the necessary knowhow for their digital transformation.  EIT's knowledge of the market has provided us a direction on the use of Glartek's AR solutions for connected workers and how it can facilitate the SME digital transformation by increasing end-customer knowledge and reducing the complexity of implementing a digital platform", said Shakil Ahmed, SVP Business Development of Glartek.