EIT Manufacturing's launches three new education programmes: A gateway for providing innovative, customized and industry-driven knowledge.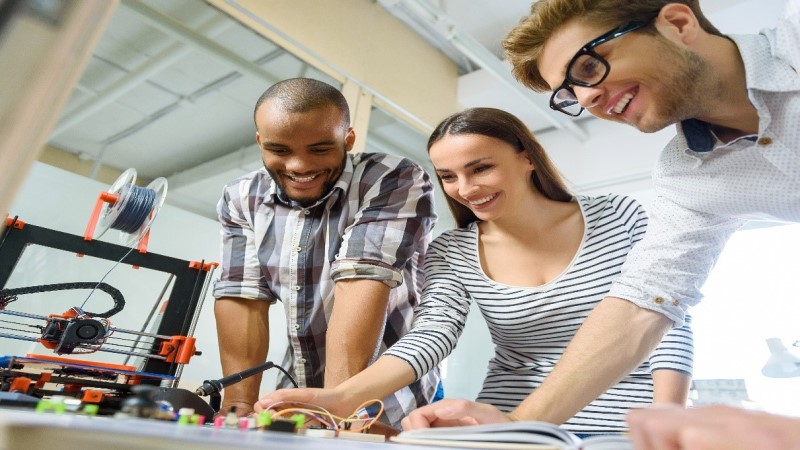 EIT Manufacturing launches three new, tailor-made education programmes: A Master Programme, a PhD programmes, and an EIT Manufacturing Winter School. The programmes aim at attracting and empowering the next generation of engineers through versatile learning opportunities, in close co-operation with the industry.
"We are looking to grow innovation and entrepreneurship skills needed to develop tomorrow's digitised and sustainable manufacturing. We also want to act as a door opener for our young talent thanks to the innovation ecosystem that EIT Manufacturing is building", said Paola Fantini, Education Pillar Director, EIT Manufacturing.
Three unique programs for different purposes – interview with Lucia Ramundo, Master and PhD Program Manager
In what way are these 3 programs unique? What makes them unique?
The programs are unique in the sense that they integrate the EIT knowledge triangle approach, combining research, education and business, inside a technical education program. Moreover, the Master programs are double degrees that also offer the students international and industry exposure. Thanks to the growing EIT Manufacturing community, the students these three programmes will get support in growing their network and support in developing new business ideas. The technical programs are structured around the EIT Manufacturing flagships or focus areas, which have been defined together with the EIT Manufacturing Community.
Why will these programs make a difference to tomorrow's manufacturing?
The programs are built around the four flagships or focus areas identified for EIT Manufacturing: People and Robots for Sustainable Work; Additive Manufacturing for Full Flexibility; Waster-free Manufacturing for a Circular Economy and Platforms for Digitalised Value Networks. The students will develop a strong understanding about their chosen thematic area, as well as build capabilities to develop innovative solutions in each field. On top of the technical skills, the students will also develop their business understanding, in order to market their solutions and ensure they are in line with market needs.
How do we ensure the link to the industry?
To ensure that the programs are tailored to industry needs, we have specific committees, including industry representatives, for each program. The students will work on real industrial challenges for their research projects or thesis. Students will also be offered internships and access to various networking and industry events.
Three tailor-made programs
EIT Manufacturing's three educational programs are tailored according to the student's learning objectives and interests and refined in collaboration with the partner universities.
EIT Manufacturing Master School
Dedicated to students who have a Bachelor of Science Degree in a field related to the four tracks: People and Robots for Sustainable Work, Additive Manufacture for Full Flexibility, zero-Defect Manufacture for a Circular Economy, Platforms for digitalized value networks. Students need to be fluent in English (English level evaluated by TOEIC, TOEFL …). More info:
EIT Manufacturing Doctoral School
For PhD students from EITM Doctoral School University partners, who wish to add entrepreneurial, innovation and business skills to their portfolio.  Students need to be fluent in English (English level evaluated by TOEIC, TOEFL …). More info:
EIT Manufacturing Winter School
An opportunity for a PhD researcher with a desire to boost their abilities and competencies in design, implementation, organization, quality assessment and improvement of intelligent manufacturing systems. The programme is accepting applications until October 4. Apply here: