Revo Foods: From the idea of plant-based, 3D-printed seafood to an investment of almost 2 Mio. Euro
In 2020, Revo Foods won the EIT Manufacturing BoostUp! 2020 Regional Finals CLC East in Vienna in the category CREATE and was later in the year awarded 2nd place in the European BoostUp! Grand Final in the same category – a competition with the best participants from all over Europe. Half a year later, the young Viennese startup received investments of almost 2 Mio. Euro from private investors as well as public grants.
Revo Foods develops and produces plant-based seafood alternatives using 3D-printing technology. The team of Revo Foods aims to fully recreate the texture, structure, taste, and nutritional profile of seafoods like salmon and tuna, but with 100 % plant-based ingredients. Their success story started in 2020, when the three founders Robin Simsa, Theresa Rothenbücher and Manuel Lachmayr, all PhD graduates, started their venture, then called "Legendary Vish", with a vision: to create an ecosystem that is and stays healthy and diverse. Contrary to current, rather wasteful production methods of seafood and meat, the startup focuses on plant-proteins as a main source of nutrition.
3D printing constitutes a big opportunity to disrupt parts of the food production industry, as it enables to create complex, heterogeneous structures with a natural look that cannot be produced with other production methods. This technology also enables quick and cheap production of personalized food with individualized vitamin or micronutrient content. Although additive manufacturing will not fully replace traditional food processing technologies, it can be a meaningful addition to the production of specialized food products.
While plant-based meat products are very successful, the market for plant-based seafood is still rather small, mostly consisting of resembled fish sticks or fish burgers. For fish such as salmon, which is the most consumed fish in the world, there are hardly any alternatives on the market – Revo Foods wants to change this.
Earlier in 2021, Revo Foods started selling smoked salmon together with a restaurant in Vienna – and the demand for the revolutionary seafood is high. Besides the smoked salmon, Revo Foods also offers creamy smoked salmon spread in their product portfolio; both products are very nutritious with a high protein and omega-3 content. Many customers claim to not be able to distinguish Revo Foods' plant-based salmon from conventional salmon.
"The food of the future is tasty, sourced sustainably and nutritious. Most of all, I think there are so many ways to make healthy food even more exciting, with design, colors, or storytelling, and we have by far not reached the limits of culinary pleasures. We fully embrace food technology as a leading field enriching everyone's lives, while making the world a more diverse and sustainable place.", says Dr. Robin Simsa, one of the founders of Revo Foods about their company's vision.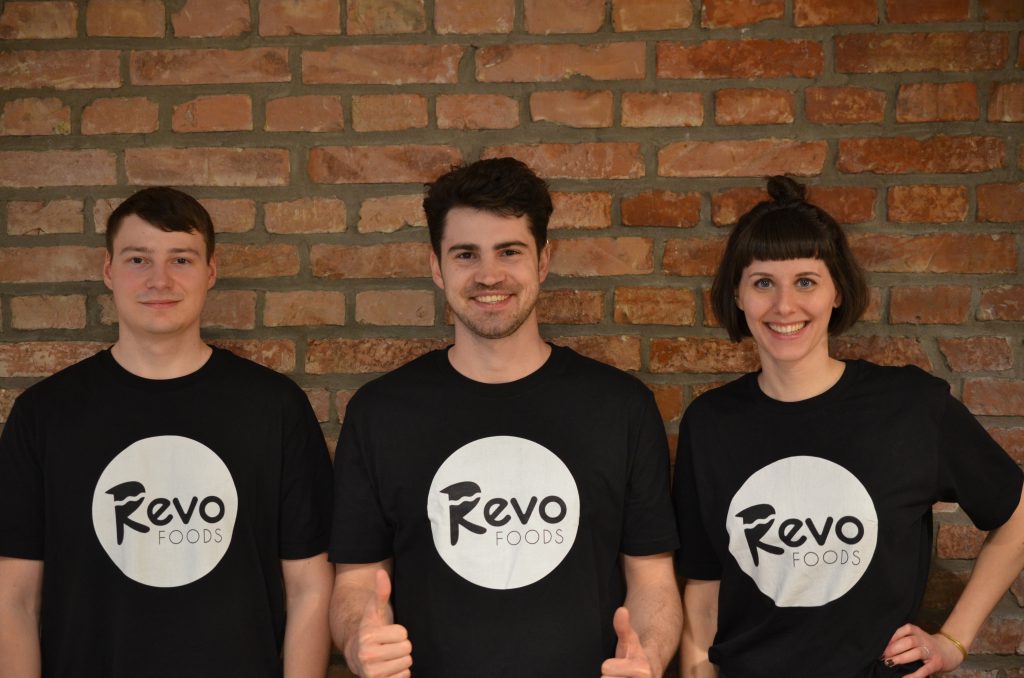 The Revo Foods Founders: Manuel Lachmayr, Robin Simsa, Theresa Rothenbücher
The Success Story of Revo Foods
In the end of October 2020, Revo Foods, then called Legendary Vish, for the first time presented their improved 3D Food Printer Design 2.0 at the BoostUp! 2020 Regional Finals CLC East in front of an expert jury. With their new technology, the startup set new milestones in terms of texture and high-precision structuring processes in their plant-based seafood production. BoostUp! is the annual business creation competition of EIT Manufacturing for startups, scaleups and SMEs to help them grow, accelerate, and transform their businesses. The expert jury who titled Revo Foods' idea as "one of the most interesting projects for the future of food production in the Industry 4.0 era" awarded the startup the first prize in the category CREATE in the regional finals. With this achievement, Revo Foods was nominated to pitch their idea on a European level at the BoostUp! Grand Final in December 2020 and won the 2nd prize in the category CREATE, receiving 15,000 Euro in cash as well as four months of dedicated business support from the EIT Manufacturing team.
In 2021, Revo Foods closed fundraising rounds with private investors – the Danish VC fund Hazelpond Capital, friends2grow, and MKO Holding – and only recently, they announced their partnership with the Biogena Group. In addition, the startup received grants from the Austrian Research Promotion Agency (FFG) and the Vienna Business Agency, a network partner and key supporter of EIT Manufacturing CLC East. In total, the startup obtained investments of almost 2 Mio. Euro.
"Food production causes one third of global greenhouse gas emissions and thus fuels climate change. Innovative and smart solutions like Revo Foods' plant-based fish can contribute to tackling the climate crisis as it combines social, environmental and economic perspectives. The Vienna Business Agency with its recent focus on urban food production fosters the creation of such solutions by funding alternatives to conventional food production that help to maintain a city's livability and its attractiveness as a business location.", says Eva Czernohorszky, Head of Technology Service, Vienna Business Agency.
"Public funding is incredibly important for risky ideas with a new technology approach, such as ours. We are very grateful and happy to have received funding from the Austrian funding authorities. We are using these funds to hire technical experts and to advance our technology.", explains Dr. Robin Simsa, CEO of Revo Foods.
The funding received enabled the young startup to purchase machines to manufacture advanced 3D printers and to get machines for food analytics to be able to systematically improve their product ingredients and production processes.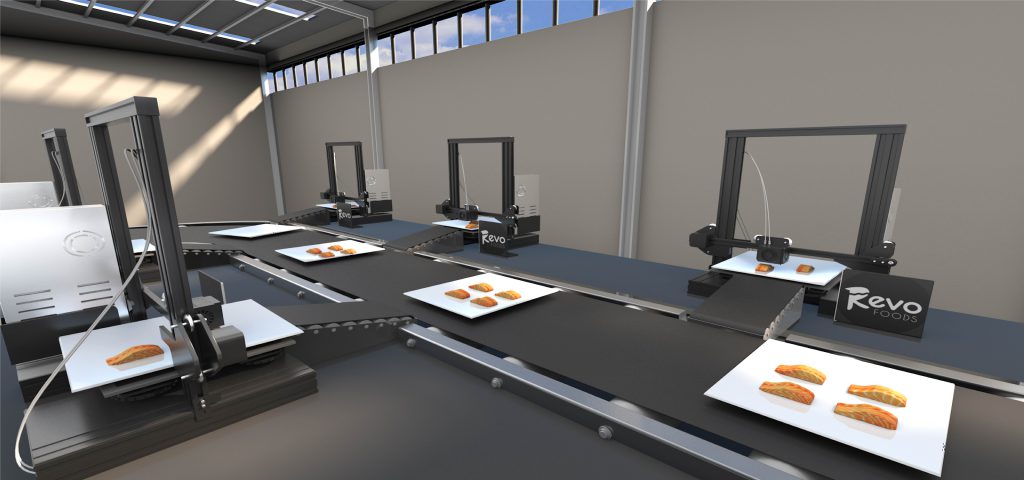 Revo Foods' Automated Production Line
Revo Foods in the EIT ecosystem
Before Revo Foods got involved in the EIT Manufacturing network, the startup was already part of the EIT Climate-KIC programme and is now engaged in the EIT Food Accelerator. EIT Manufacturing, EIT Climate-KIC and EIT Food are three of the eight so-called Knowledge and Innovation Communities (KIC) of the European Institute of Innovation and Technology (EIT), a body of the European Union. The goal of the KICs is to bring together businesses, research centres and universities to strengthen cooperation among them and form dynamic, pan-European partnerships to foster innovation. The interdisciplinarity of the various EIT KICs is one of its strengths. It provides the ecosystem with multiple opportunities to join different programmes and activities and to combine insights and technologies of various industries.
Being involved in an EIT KIC's ecosystem also means having access to a variety of stakeholders on a local, regional, and European level. EIT Manufacturing works in close cooperation with multiple private investors or public funding authorities and provides its programme participants access to this diverse network. The Co-Location Center (CLC) East of EIT Manufacturing is strongly supported by the Austrian Research Promotion Agency (FFG) as well as the Vienna Business Agency which whom they cooperate in a close network partnership.
Dr. Robin Simsa about their experience in the EIT ecosystem: "EIT Manufacturing was incredibly helpful for us, as it was an initial prove that our idea has value, as well as support from experts to guide us in the right direction. EIT Manufacturing as well as other EIT institutions are a fantastic way to connect the European Startup ecosystem together with experts and larger companies. This expertise is very important to help startups grow. It is very valuable to have those opportunities, not only in the individual member states, but in the whole EU."