EIT Labelled Fellowship – TURING programme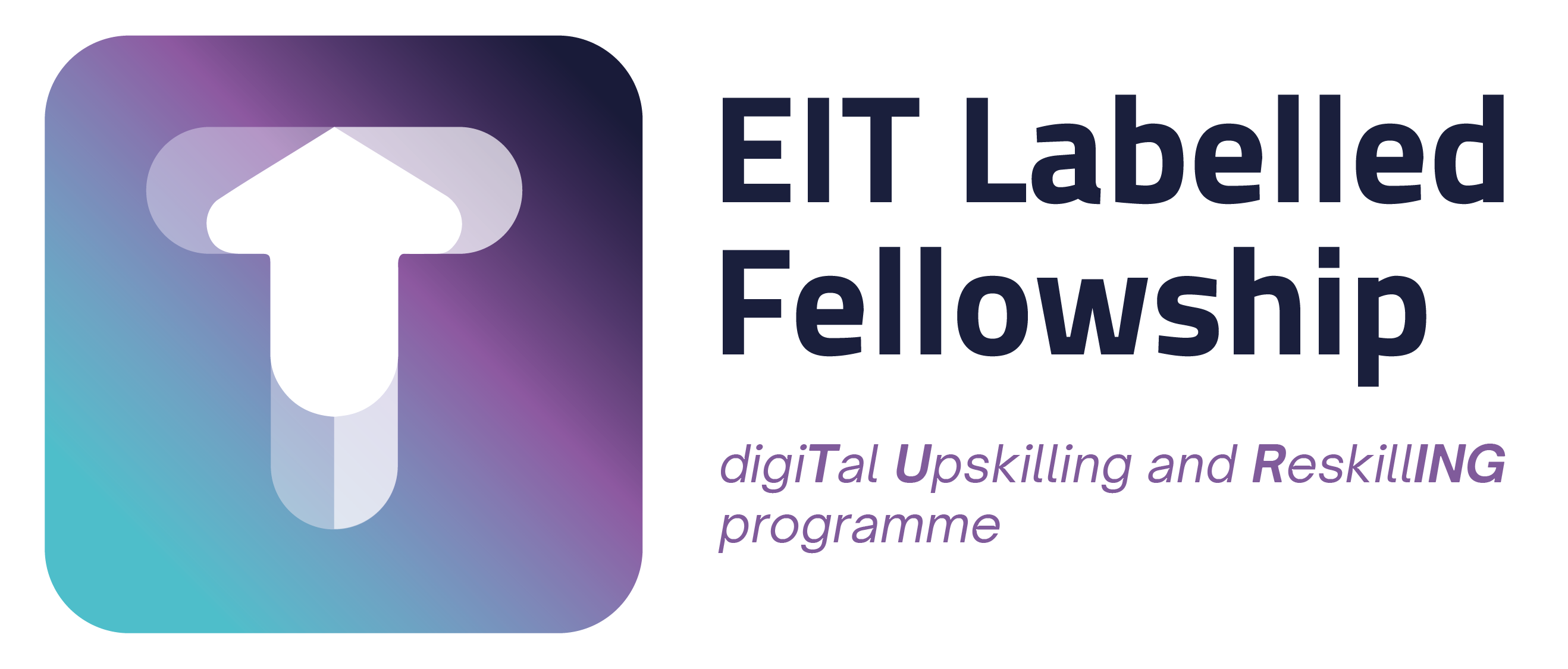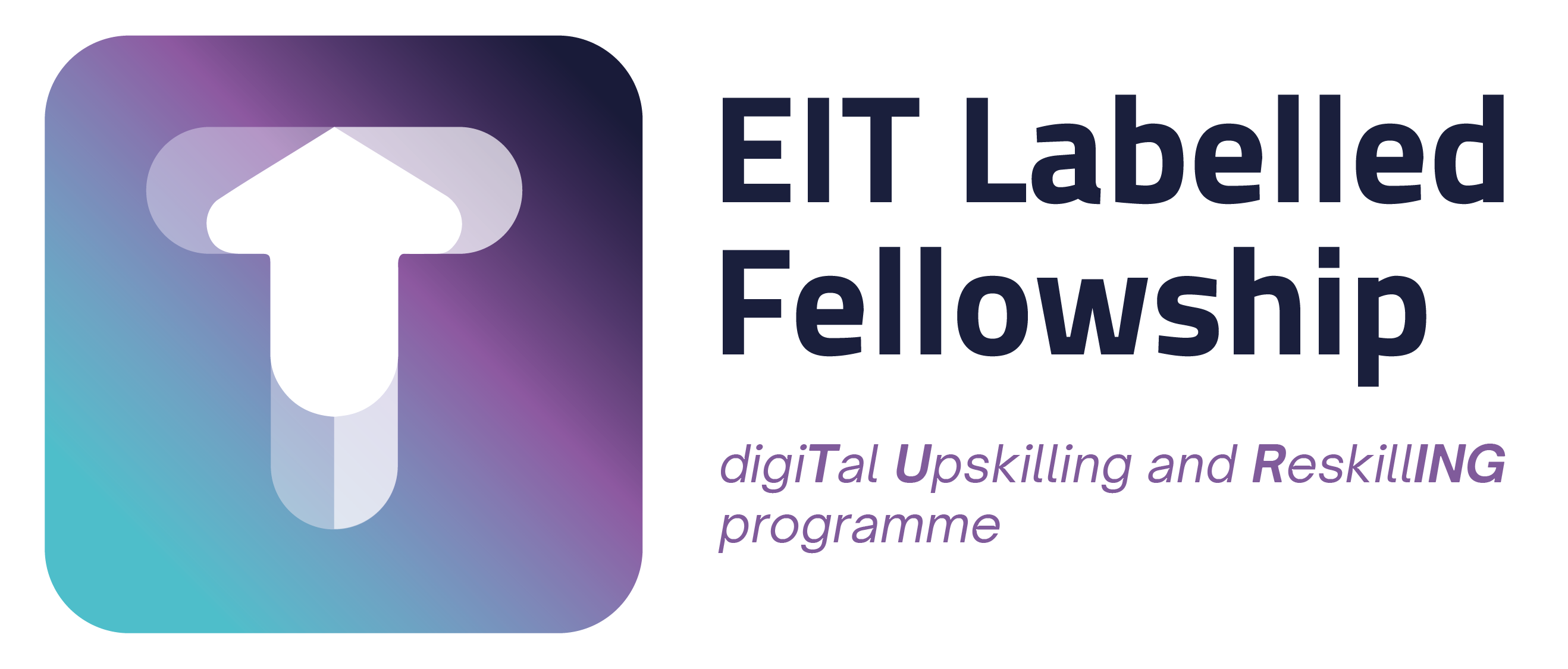 About the programme:
EIT Labelled Fellowship – TURING (digiTal Upskilling and ReskllING) programme:
The EIT labelled fellowship is EIT Manufacturing's non-degree programme. It aims to attract potential talents who did not go through a formal degree or need to update their skills and gain innovation & business-related competences.
TURING is a part of EIT Manufacturing's Labelled Fellowship programme which addresses a challenge of labour displacement driven by technological innovation. It contributes to upskill and reskill innovation leaders for future of manufacturing industry.
TURING programme promotes personalised and flexible digital enhancement training programmes, co-created with digital technology providers, companies- adopting those technologies, and their mature established customers.
Companies' identified personnel willing to adopt digital technologies have an opportunity to benefit from immersive internships with the technology providers and customers using similar technologies. Doing so, TURING fellows will build competences allowing them to develop and adopt new technologies in their home companies.
All participants who successfully finish the Fellowship program will receive an EIT label Certificate with EIT logo.
Expression of Interest form
EIT Labelled Fellowship's first edition targets participants from TURING affiliated companies. If you belong to such companies, please, submit your contact details and a one-page cover letter expressing your interest in innovation & entrepreneurship.
FAQs
The EIT Label is a quality mark for education and training. It is a certificate of quality education in entrepreneurship & innovation and is provided by the EIT.

The EIT Label is awarded to non-degree programmes- EIT Fellowships as of 2022. The EIT Fellowships equip learners with a similar experience and learning outcomes as the EIT-labelled degree programmes while enabling greater learner centredness and individual learning pathways including recognition of prior learning. In practice, EIT Fellowships are focused on schemes of shorter duration than degree programmes.

The EIT label guarantees that students are trained in excellent programmes and improve their innovative and entrepreneurial skills.

EIT Manufacturing is acting as a facilitator in the consortia and support EIT Labelled Fellowship -TURING partners to successfully implement the programme.

The program provides personalized learning experiences based on internships designed to fulfil the specific needs of the professionals and their hiring companies in innovation & entrepreneurship. After completing this programme, professionals will be able to plan the digital technology adoption at their hiring company. Consequently, the project promotes technology transfer between digital technology providers and adopters through these professionals, who will be agents of change at workplaces.

EIT Labelled Fellowship – TURING programme includes:

Tailored executive training in digital skills and innovation & entrepreneurship,
Co-Creation Labs involving stakeholders to co-design internship plans,
Internships to support the concept development, prototyping, using of innovative technological solutions, new business models and value chains impacts.

TURING provides individualized approach to supporting SMEs up/reskilling via tailored training and internships programmes.

– Professionals coming from SMEs will follow an internship in large companies that already adopt digital technologies in their internal processes, thus they will improve skills & competences to adopt new technologies at their home companies.

– Professionals will be equipped with online classrooms and learning paths about technological, transversal & interpersonal skills, enriching their problem solving, self-management, communication skills, ethics, and critical analysis via learning by doing.

– SMEs will benefit from their skilled and knowledgeable professionals adopting Digital and Innovative technologies, and new ways of communication/interaction between humans and machines at workplaces.

– Professionals and training-hosting companies are involved in definition of learning paths that enables to ensure needs-based practice benefiting both professionals and companies.

Fellowship is to provide Pi-shaped training to professionals. The Pi-shaped training is based on providing: 1) transversal skills, and 2) advanced digital technology application skills based on blended learning pedagogical approach. The blended learning pedagogical approach will be facilitated via online & on-site learning activities. The online learning will consist of attending a series of individual learning paths/nuggets before, during and after the internship. The on-site learning will allow professionals/fellows to learn directly from their host companies by leveraging the workers' expertise.

EIT Labelled Fellows could be young talents, technical professionals (operative roles), and middle managers. Examples of some roles that could be involved are listed below:

Maintenance specialists
Quality specialists
The team leader of the production
Supervisor of the production
Robots programmers
Production planning and control
Information Technology technicians

For the first promotion, participants are selected from TURING Consortium affiliated companies according to motivation letter, a written document to express their interest in the programme. These letters must outline skills, education & training, experience, personality traits, personal ambitions, and the applicants' entrepreneurial potential.

EIT Manufacturing is supporting TURING consortium to successfully implement the programme. Therefore, EIT Manufacturing will not participate in selection of participants, this process will be managed by the consortium leader- FEUP – Faculty of Engineering of the University of Porto and TURING partners.

The internships will be organised as follows:

Porto- Portugal: June, October 2023,
Turin- Italy: September- October 2023,
Tartu- Estonia: Autumn (to be defined)

Participation fee for the personalised training course and internships are defined as of 5 000 EUR per person. The price is geographical and may vary in different countries. For the final quotes, please, contact us. First promotion will receive waivers or discounts.

For more information, contact: tamar.chapidze@eitmanufacturing.eu